The Coupon King of Columbia Heights
By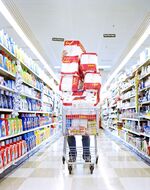 In the Columbia Heights neighborhood of Washington, D.C., an area thick with young urban professionals, Edward Daniels' hobby sticks out. So do the 32 packages of yogurt in his fridge and the 24 boxes of cereal in his cupboard.
The 32-year-old Daniels is a coupon shopper. Since November, he figures he's used strategic couponing to pick up $2,800 of merchandise for a total out-of-pocket cost of less than $100. Carrying his three-inch-thick binder of coupons with him into nearby drug stores and supermarkets, Daniels walks out with bags of essentially free stuff.
Some of Daniels' friends think he's crazy. "This is on the verge of hoarding," they tell him. While he's noticed the stigma to using coupons in certain posh neighborhoods, it doesn't bother him. "I make a great income," he says. "I'm not starving, where I need to be doing this."
When Daniels started clipping coupons late last year, his goal was to take control of his cash flow. The professional actor started a DJ company several years ago to add to his income. He's acted in theater and film, and hires teams of DJs to work corporate events, weddings and running races. Yet, he says, "the money comes in so sporadically."
Master of Mundane
His cash-saving techniques are borrowed from couponing reality TV shows, blogs and Twitter feeds. Last year, according to marketing company NCH, consumer manufacturers distributed 305 billion coupons. Less than 1 percent of those coupons were redeemed.
The name of the game in advanced couponing: combining manufacturer coupons with other discounts to turn a discount on one item into a freebie and more. A manufacturer's coupon from a Sunday newspaper can be used on a clearance item or alongside a store coupon. Sometimes all that's needed is the well-timed use of one generous coupon: Use a $5 off coupon on an item priced at $4, and you not only get the product for free but many stores will let you apply that extra $1 (called an "overage") to other items. Overages can be used to buy meat, produce or other items not ordinarily able to be bought using coupons.
Related story: Extreme Saving: A Man, His Van, a Debt-Defying Plan
The method requires organization and a mastery of mundane details. The coupon's fine print is important, especially its expiration date, and so are store policies. Stores that double or even triple coupons -- in Scrabble terms, the double and triple word spaces of the coupon world -- are especially popular with Daniels for obvious reasons.
Daniels can spend two hours a day organizing the coupons in his binder, planning shopping trips and roaming the aisles. A smartphone app keeps track of his coupon inventory, while other Twitter users alert him to deals. In a typical month, his bank statement will show he's gone to the grocery store 10 to 15 times but never spent more than $2.
'What the Hell?'
While cashiers sometimes get angry at having to scan wads of coupons, they often end up amazed as his total steadily plummets -- on a recent trip from $85 to $4. Says Daniels, "They're like, 'What the hell? How did you plan that?' I've gotten high fives."
It helps that he's naturally organized and finds bargain-hunting fun. "It's my reward to myself after a long day," he says. When he brings stuff home, his organization comes in handy for combating accusations of hoarding. "Everything is very neat in the cupboard and cabinets," he says. "I don't have things piled up under the bed or in the closet."
Still, how does he ever use such large quantities of stuff? He has collected 20 different types of shampoo and conditioner -- despite the fact that he shaves his head. What would anyone do with 10 cans of aerosol spray?
Daniels says he's planning to donate much of his haul. A stockpile of food will go to a food bank or homeless shelter, and this single man is gathering "feminine products" -- for which he's found a lot of coupons -- for a women's shelter. Baby supplies have gone to the mothers and mothers-to-be in his family living in southern Virginia.
His surplus also goes to friends, even those who were skeptical of his couponing at first. A neighbor frequently gets extra yogurt. Daniels recently picked up 20 jars of Smucker's ice cream toppings. "I'll invite friends over for ice cream, and then say, 'take it when you leave.'"
He posts purchases on Facebook in an album entitled "Ain't Nobody Paying Nothing For That!" that now has 102 pictures and counting -- and friends shout if they'd like something. Actually, he notes, many friends are discreet about their desire for free stuff. "They've messaged me privately," he says.