Rupert Murdoch Bites the Hand That Saved Him
by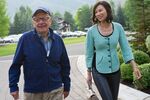 You've no doubt heard that Rupert Murdoch, the billionaire chief executive of News Corp., is divorcing his much younger wife, Wendi Deng. I can't be the only one who thought: He's leaving her?
She's 44, glamorous, ambitious, and they have two teenage daughters—all of which, at the very least, made Murdoch seem a bit more vigorous than the typical 82-year-old. She also apparently kept him on a strict diet and forced him to exercise.
They may have been living separate lives, but when Murdoch was at his lowest— sitting before Parliament in London, being grilled about phone hacking at his British newspapers—she rose to his defense in a way no corporate wife has been able to match. She smacked down the protester who threw a plate of shaving cream at her husband before anyone else had even risen. Then she threw the remains of the shaving cream at him with near-lethal force and returned to her seat to wipe flecks of shaving cream from her husband's face.
Deng's slap is surely going to cost  him now.
Before it's here, it's on the Bloomberg Terminal.
LEARN MORE