Rand Paul Recruits for a Class Action Against NSA
By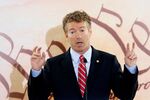 It's been a week since the Guardian newspaper revealed, through documents leaked by a whistleblower, that the National Security Agency was sweeping up records of phone calls between U.S. citizens. Already, the lawyers are pouncing.
Senator Rand Paul (R-Ky.) wants the customers of cell carriers Verizon Wireless, AT&T, and Sprint Nextel to bring a class action against the NSA. On Tuesday, the American Civil Liberties Union sued the Obama Administration, demanding that a judge stop the NSA's surveillance program and purge the call logs caught up in the sweep. The U.S. has also launched a criminal probe into the leaks by Edward Snowden, the former NSA contractor who disclosed details about the secret programs.
The ACLU case charges that the surveillance program violates the First Amendment, which protects freedom of speech, and the Fourth Amendment, which safeguards Americans against unreasonable invasions of privacy. Specifically, the case challenges Section 215 of the Patriot Act, which says the government, to fight terrorism, can compel third-party holders of your data, such as a cell phone company, to hand your data over without your knowledge or consent.
At a press conference in Washington today, Paul said that 250,000 people have already signed up, through a portal on the website of his political action committee, RandPAC, to say they want to join a class action. Paul said he wasn't sure yet whether that meant signing on to the ACLU's case or bringing his own, as he weighed the right legal strategy with his lawyers. "To marry 250,000 and, I hope, millions of people to a lawsuit will take some work," Paul said. He also encouraged companies such as Verizon and Google to sign on to the suit "to let their customers know they will stand up in defense of privacy." Paul was flanked by representatives from privacy groups, including the ACLU and the Electronic Frontier Foundation, as well as the Tea Party group FreedomWorks and his father Ron Paul's advocacy organization, the Campaign for Liberty. FreedomWorks President Matt Kibbe told me his group has also set up a petition site to channel people toward a class action and is considering signing on to the ACLU suit.
The ACLU has raised this issue before and lost in court. The Supreme Court dismissed a similar case earlier this year on grounds that the ACLU and other parties to the lawsuit, including journalists, didn't have proof that their calls and e-mails had actually been nabbed. The court said that a reasonable suspicion wasn't enough. The ACLU now believes its case is stronger because it has actual records: the FISA court order leaked by Snowden. Woodrow Hartzog, an affiliate scholar the Center for Internet & Society at Stanford Law School, says demonstrating that cell carrier customers were actually harmed as a result of their communications being intercepted by the NSA will be the trickiest part to prove in court. As he explained in an e-mail:
"[The ACLU will] likely have to demonstrate legitimate First Amendment harms (such as chilling effects) or Fourth Amendment harms (perhaps a violation of a reasonable expectation of privacy). The question of 'harm' is one that is central in the privacy debate right now with no clear resolution. Is it a harm to merely know with certainty that you are being monitored by the government? There's certainly an argument that it is. People under surveillance act differently, experience a loss of autonomy, are less likely to engage in self exploration and reflection, and are less willing to engage in core expressive political activities such as dissenting speech and government criticism. Such interests are what First and Fourth Amendment seek to protect, so if they don't count as harm in this context, what would?"
Before it's here, it's on the Bloomberg Terminal.
LEARN MORE