Mirren Bows Out, Rihanna, Yoko's Meltdown: London Weekend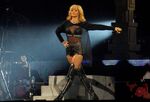 Rihanna, Yoko Ono's meltdown, and Helen Mirren's closing act as the Queen are our choices for London this weekend.
STAGE
Queen Elizabeth II stoops to wipe a corgi's wet back as her grouchy prime minister Harold Wilson watches.
This weekend is your last chance to see this and other charming tableaux in "The Audience," starring Helen Mirren. Her Majesty is shown having (imagined) weekly audiences with a her prime ministers, including the bumbling John Major and the bossy Margaret Thatcher (in pinstripes and stiff hair).
If you're ticket-less and dying to see Dame Helen, bang a large drum outside the theater. Last month, a group of street percussionists got an earful from the actress in full regalia.
Ends June 15 at the Gielgud Theatre. Information: http://www.theaudienceplay.com or call +44-844-482-5130.
DINING
Did you expect to get through this column with no mention of Father's Day? Several London restaurants have special menus for that special day (Sunday). At Le Pont de la Tour, it's 27.50 pounds ($43.11) for three courses. If you book dinner, there's a free bottle of wine to take home. Information: http://www.lepontdelatour.co.uk/ or +44-20-7403-8403.
Five Fields is a new Chelsea restaurant named after the 18th-century London area where it's located. The herbs and vegetables are grown in the establishment's own gardens in East Sussex. Chef-owner Taylor Bonnyman previously worked at Corton in New York, while head chef Marguerite Keogh was at Marcus Wareing at the Berkeley: http://www.fivefieldsrestaurant.com or call +44-20-7838-1082.
VISUAL ARTS
German Chancellor Angela Merkel is contemporary art's new bugbear.
In his Tate Britain exhibition, artist Gary Hume pictures her as a green blob with a predatory yellow mouth. The painting-on-aluminum was produced in 2011, when Merkel was unloved in some euro member countries. Also on show is a 2002 bas-relief of Kate Moss's face with Michael Jackson's nostrils; it's a satire on celebrity that, with Jackson now dead, looks slightly eerie.
Nextdoor is an exhibition of pop artist Patrick Caulfield, who hated to be called that. See his cheery trompe l'oeils of lakeside views and chicken kievs. Both shows end Sept. 1: http://www.tate.org.uk or call +44-20-7887-8888.
MUSIC
David Bowie, Elvis Costello and Jarvis Cocker all did it. Now it's Yoko Ono's turn to curate the Meltdown festival at the Southbank Centre. Guests range from Peaches and Patti Smith to Boy George: http://www.meltdown.southbankcentre.co.uk.
Rihanna is back in London. Expect clothes to drop off and hydraulic platforms to swing above the stage as she grinds through her album "Unapologetic." June 15 and 16. For more information: http://www.rfu.com/TwickenhamStadium or http://www.rihannanow.com/live/.
The Who plays its 40-year-old rock opera "Quadrophenia" in full, following the re-release of the album's deluxe edition. Tracks such as "5.15" still sound fresh.
June 15 and 16 at the O2, London SE10 0DX. Call +44-20-8463-2000 or http://www.theo2.co.uk, http://thewho.com/.
OTHER LONDON OUTINGS
Ever see "Swan Lake" in an arena?
The Royal Albert Hall hosts English National Ballet's production of the Tchaikovsky classic -- with star ballerina (and artistic director) Tamara Rojo joining Matthew Golding (the Brad Pitt lookalike from Dutch National Ballet) on June 15 and 18; the show ends June 23. Call +44-845-401-5045 or go to http://www.ballet.org.uk/whats-on/swan-lake-round/.
Or you can browse the Affordable Art Fair in Hampstead, where 113 galleries offer items priced 4,000 pounds at the most. Information: http://affordableartfair.com/hampstead.
(Farah Nayeri writes for Muse, the arts and leisure section of Bloomberg News. The opinions expressed are her own.)
Muse highlights include London and New York weekend guides and Lewis Lapham on history.
Before it's here, it's on the Bloomberg Terminal.
LEARN MORE