business
Impact Investing: Lots of Interest, but Where's the Big Money?
By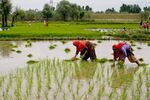 There's plenty of interest in supporting entrepreneurs in the developing world these days, from the elite hobnobbing at Davos, the Clinton Global Initiative, and the G-8 summit. Last year, financial institutions devoted to development, foundations, and other entities formed 30 new investment funds to channel money to small, growing companies overseas. They invest in businesses that have 5 to 250 employees and need $20,000 to $2 million to expand.
What's missing is money from big institutional sources. "It's still … more of a challenge to actually see the investment flows," says Randall Kempner, executive director of the four-year-old Aspen Network of Development Entrepreneurs, which tracks the sector in a new report released today. "We haven't had liftoff yet in a significant way."
Those 30 new funds in 2012 actually represented a drop from the year before, when 41 were formed, according to ANDE, though it's still among the highest numbers recorded. "Have we seen a major inflow of institutional capital from the big-name investment banks or pension funds? The answer is no," Kempner says. That's partly because the field is relatively new, and there aren't a lot of track records for investors to point to.
Getting capital into the hands of entrepreneurs in emerging markets will be critical to global stability in the years ahead, Kempner says. "What are we going to do to create the hundreds of millions of jobs that are necessary to maintain peace and create some prosperity in developing countries?" Kempner says. "It's in that context that we think it's so important to really promote this sector."
ANDE sees three areas that need particular focus. One is on the earliest-stage businesses looking for seed money between $20,000 and $100,000, a category too risky for many investors. "There's this total lack of startup capital in most developing countries," Kempner says. The other two areas are women entrepreneurs and agricultural businesses.
ANDE's own reach has grown from 34 member organizations when it started in 2009 to 181 today. Kempner expects interest in developing-world growth companies to keep spreading, and money will follow. "This is never going to be a short-term thing. I don't think this is a space where you're going to see some massive spike," he says. "The potential is so great, for the job creation and for the positive social and environmental impacts, that it's worth the long haul."
Before it's here, it's on the Bloomberg Terminal.
LEARN MORE