business
How JetBlue Aims to Grab Some High-Dollar Traffic
By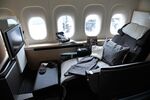 The race for the well-heeled passengers who traverse the coasts is drawing a new entrant in JetBlue Airways. After years of seeing their domestic rivals add escalating levels of perks on the routes between New York and California, JetBlue plans to launch a new, premium product on those routes on larger jets it will receive late this year.
JetBlue's new Airbus A321s will mark the airline's first foray into a fancier cabin up front, unlike the single class of service on its existing fleet. The first of the 30 new planes are expected to enter service in early 2014. JetBlue has been mum on details, although an Airbus filing with the Federal Aviation Administration offered some detail on the plans well before the airline wanted to discuss it.
Among the features in the 16-seat business-class cabin will be "mini-suites" with a sliding door to offer privacy, according to reports of the filing. At an investor conference on June 11, JetBlue's vice president of network planning, Scott Laurence, told analysts that the airline plans to have the best product on the fiercely contested route, targeting people who don't always travel on their company's dime. "I think the incumbent pricing at $2,500-plus, each way, is something we think doesn't make a lot of sense," Laurence said. "It doesn't stimulate an already existing market. We think we can stimulate demand there and really have an impact on that market."
Los Angeles and San Francisco are the top two destinations, by a decent margin, from New York's JFK Airport, according to the Bureau of Transportation Statistics. JFK is also Queens-based JetBlue's home airport, where it's the dominant carrier with a 38 percent share of passengers, followed by Delta Air Lines.
"United, American, and Delta are not going to like this at all," said George Ferguson, an airline analyst with Bloomberg Industries. Ferguson calls JetBlue's plans "very disruptive" to the high-fare business model that airlines have developed on the New York-California routes, which skew heavily toward corporate travelers, especially in technology and entertainment. Virgin America has also carved a well-regarded niche spot on the routes among elite travelers, although the airline has struggled to turn a profit. "That's what JetBlue is doing here: They go find that key revenue market where they can come in and take some of that money," he says.
Financial gain or not, the move to a cabin product that's leagues beyond JetBlue's traditional free blue potato chips and live television poses some potential risks as the company experiments. The new cabin "represents a pretty big change for us," Laurence conceded in his presentation. "And one of the reasons we're not talking as much about it is we have been very deliberate, very gentle with how we're going to introduce change to our culture. Our culture is incredibly important to us, and I think as we change that we do so with a very sober mind-set."
Before it's here, it's on the Bloomberg Terminal.
LEARN MORE