How Big Cable Keeps Internet TV at Bay
by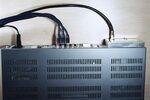 Cable companies have had a good ride, scooping up fat monthly subscriptions for a bundle of TV channels you can't buy anywhere else. Sure, go ahead, cut the cord—and say buh-bye to last night's game highlights on ESPN, you sports fanatic. Still, the onslaught of new mobile technologies, and the satellite players, and Google, and the millions who pay Hulu, and the whole Internet revolution—all that was going to change the television paradigm and make the Internet another venue for watching it. Maybe, at some point, you could pay for what you actually watch and not for the 220 other channels.
So far, zilch on those fronts. One reason: Big Cable is forcing TV programmers to keep their content from the kind of Web services envisioned by Intel, Google, and Apple, with incentives such as higher payments and threats to drop certain programming. The Department of Justice has been investigating the cable companies' arrangements with programmers for at least a year, Bloomberg News reported, but the issue received fresh attention this week when executives at two big cable companies publicly defended the status quo.
"It's in everybody's mutual interest that we are protecting the ecosystem in a way that continues to keep the value of that programming that we have and the way it's delivered to our subscribers today," Chris Winfrey, chief financial officer at Charter Communications, said on Tuesday at a cable-industry event in Washington. Time Warner Cable Chief Executive Officer Glenn Britt said some of his company's agreements with media creators don't allow those companies to make programs available to online systems.
The biggest initial threat to cable appears to be from Intel, which wants to launch an Intel TV product this year. Its cable-box alternative would be stuffed with the company's chips and would stream programming to television sets via the same high-speed Internet service sold by the cable providers. Intel's efforts have been slowed because of an inability to gather an adequate number of channels to develop a viable service, as the New York Times reported. If the Intel service succeeds, other players like Google and Apple would probably follow—and big cable companies would be free to get into the same game, called "over the top" in industry parlance.
Rich Greenfield, an analyst with BTIG Research, has begun a campaign of sorts to publicize these deals and the broader effort to quash potential disruption in the cable industry. At the cable conference in Washington, Greenfield made a point to question executives about their deals with programmers and plans to raise the issue during quarterly earnings calls. Aside from the unknown legality of such arrangements, Greenfield argued in a blog post this week that the result is "most certainly bad for consumers, as it limits competition and prevents the emergence of distributors who can provide revolutionary new ways of experiencing live linear and on-demand TV without being encumbered by legacy infrastructure." He suggested that the Federal Trade Commission might want to investigate.
Time Warner fired back with a statement on Wednesday, calling exclusivity deals common in the industry:
"This is why, for example, you can only watch Fast & Furious 6 in a movie theater (not in your living room), Sunday Ticket on DirecTV, and the new Arrested Development episodes on Netflix. In fact, the amount and scope of exclusivity and windowing in Time Warner Cable's arrangements with programmers pales by comparison to that found between other players in the entertainment ecosystem."
Of course, the fact that such deals exist does not address the reasons they were sought. A Time Warner spokeswoman said the company had no further comment beyond its statement.
The trouble for companies such as Charter and Time Warner is that millions of cable customers don't want the current ecosystem protected—they'd like to see upstarts decimate it.
Before it's here, it's on the Bloomberg Terminal.
LEARN MORE