business
Greeks Were Wrong: Things Could Get Even Worse
Nick Malkoutzis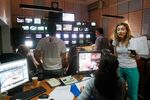 Greeks who tried to tune into public TV and radio stations yesterday got nothing but blank screens and static. Without warning, the government had shut down the 47-year-old public broadcasting network the night before. The action sparked a fresh wave of strikes and protests from austerity-weary Greeks, but it also served as a warning that their situation may be taking a turn for the worse.
In recent weeks, Prime Minister Antonis Samaras had been telling the world that Greece had turned the corner. He pointed to a recovering stock market, falling bond yields, improved fiscal performance, and stronger government cohesion. Now that optimistic message is starting to unravel. On June 10, Athens suffered a major blow to its effort to raise money by selling off state assets when it failed to secure a binding bid for natural gas monopoly DEPA. The government had been counting on a bid from Russia's Gazprom, which had made a preliminary bid of €900 million. News that Gazprom was out of the picture sent the Athens stock market tumbling, as the government's target of raising €2.6 billion from selloffs this year now appears out of reach. In yet another blow, Greece on June 12 became the first developed country ever to be downgraded to emerging-market status by equity-index provider MSCI.
The public-broadcasting shutdown opened a rift within Greece's coalition government, pitting junior partners Pasok and Democratic Left against Samaras's conservative New Democracy party. The prime minister is to meet with leaders of the other two parties on Monday in an effort to resolve the dispute. Failure to do so could lead to snap elections only a year after the coalition government emerged to pull Greece back from the brink of a possible exit from the euro currency. "This is a government that has been plunged into a deep existential crisis," says Nikolas Voulelis, editor of the daily newspaper Efimerida ton Syntakton. "They are involved in a blame game over who has led the country to this precarious point . All three parties are frightened of being the one that triggers elections. None of them wants this government to collapse."
In the lastest austerity move, Samaras's government said it would fire almost all the 2,700 employees of the public broadcaster, then reopen a slimmed-down network at the end of August, with only one-third of the current budget and staffing levels. Samaras defended the move by saying Greece had put off structural reform for too long and that the broadcaster, known as ERT, was a prime example of the inefficiency and corruption that afflicts parts of the public sector. The decision to close ERT also rids the government of another problem, as it had agreed with its troika of lenders to fire 2,000 civil servants this summer.
The strategy carries a high risk. The shutdown has drawn strong criticism from opposition parties and unions in Greece, as well as journalist federations and broadcasters abroad. The European Broadcasting Union urged Samaras to reverse the decision, which it labeled "a damning first in the history of European broadcasting."
A government in confusion and being criticized from abroad: In Greece, the summer of 2013 is starting to feel a lot like the summer of 2012.
Before it's here, it's on the Bloomberg Terminal.
LEARN MORE