Getting HR Back into the People Business
by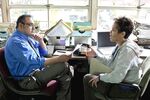 When I started in HR, it was understood that you were going to work with people. You expected to get good at calming angry people down, listening to them share their problems, and untangling thorny interpersonal issues. That sort of thing went with the territory in the quaint 1980s. After all, the HR department has "human" in its name. How could anyone be an HR person without wading right into the deepest part of the people-at-work mosh pit?
HR has changed radically in the decades since I bopped between offices and manufacturing plants, running benefits enrollment sessions and signing people up for 401(k) plans. Those activities put me in touch with employees and let me establish the kind of trust that would make it easy for people to open up to me later to talk about sensitive topics.
Nowadays, HR people tell me that the process parts of their jobs are the only kind of work they're allowed time for and the only kind their leadership values. What we are left with is a massive engine that's called HR, with parts and pieces to process job seekers, new employees, benefit plan members, compensation plan subjects, and other categories and file folders of people. That's people processing. That's not HR, not in my book.
We're taking the HR function, particularly in large organizations, down a deadly spiral that can only lead to one outcome: the commoditization and outsourcing of HR, a sure sign that the era of people-focused HR is dead.
I'm a huge fan of HR outsourcing, as long as we're talking about functions such as HR information systems and benefits and salary administration. These 'engine room' functions aren't really HR activities anyway. They're processes that any capable outsourcing partner can handle better than your in-house HR staff can, for less money.
HR people aren't in place to process vacation requests, but rather to view your team and your business through a human-colored lens, always asking, "What do I need to do to make sure this team is kept in the loop, listened to, appropriately equipped, and responsibly and ethically led in order to win in our marketplace?" That's the fun part of HR, and the part that makes employers and their shareholders money. It's not the "necessary evil" part of HR, the regulatory compliance that so many people associate with our function, but the "fuel the business" part where talent, strategy, and vision intersect.
As for the tired wheeze "the job of HR is to keep us out of court," here's the relevant question: Is the CFO paid to keep customers and vendors from suing? No. The CFO is responsible for financial health of the organization. That's a huge assignment. It's no less lofty or time-consuming to be responsible for the organizational health of the company, the way the HR chief is.
It's time to bring the people function back into HR and let the benefits administrators and on-call sales compensation specialists oversee the bits and bytes and processes. HR people are needed desperately on the front lines, where customer relationships are made or broken, new products get launched or get waylaid, and trust grows on a team (or doesn't). HR people are needed on the scene, where managers struggle with their own tug-of-wars between duty to the organization and duty to themselves and their colleagues. This is where HR people can add value.
Before it's here, it's on the Bloomberg Terminal.
LEARN MORE