General Mills Targets a Non-Breakfast Crowd: Adults
By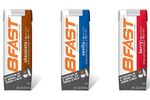 It's a problem for companies such as General Mills and Kellogg: Breakfast consumption among American adults has steadily declined over the last few decades. Sure, it's important for your kids to eat their Cheerios before school, but what about you? Oh, that's right: You're already late for your morning meeting.
In an effort to get adults to eat more than cereal bars, General Mills has launched a product called BFAST, a nutritional shake sold in the cereal aisle of retailers such as Publix, Safeway, and Wal-Mart Stores. It comes in three flavors—chocolate, vanilla, and berry— and promotes the "nutrition of a bowl of cereal & milk." Each box costs $1.79 and bears the instruction "chill it, shake it, chug it, and be on your way." Kellogg recently launched its own shake called Kellogg's To Go.
Some of us at Bloomberg Businessweek couldn't resist the idea of putting these new shakes through a rigorous taste test. So this morning social media editor Scott Bixby, photo editor Jane Hwang, and I chilled, shook, and chugged some BFAST.
The verdict? "The vanilla had a melted ice-cream quality that I found delightful as a breakfast surrogate," said Bixby. The chocolate, on the other hand, was just "too thick," said Hwang. The berry flavor called to mind chewable Flintstones vitamins.
Taste aside, there was one glaring flaw: The opening was just large enough to guarantee unwanted spillage if you tried to consume the BFAST while on the run. So we agreed on the one critical, missing component—a straw. We're adults on the go, after all. Doesn't General Mills know how busy we are?