Darrell Issa's IRS Investigation Is Falling Apart
By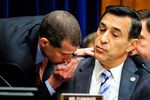 When Republicans won control of the House of Representatives in 2010, Representative Darrell Issa of California was supposed to become a star. Issa, who made no secret of his ambition, took over the Oversight and Government Reform Committee, vowing to use the power of his chairmanship to stage hundreds of hearings and hold the Obama administration to account. Anticipating what he promised would be "constant battle," the White House hired extra lawyers and braced for the onslaught.
But Issa wasn't the force people expected him to be. His biggest investigation, into the botched anti-gun smuggling operation that left a Border Patrol agent dead, incited right-wing talk radio listeners. Beyond that, though, it barely registered. After two years in power, Issa seemed more bark than bite.
Then came last month's revelation that IRS agents had singled out Tea Party groups for special scrutiny. Here was an issue that seized public attention and posed a legitimate threat to Obama. Since then, nobody in Congress has pushed harder than Issa to pin the scandal on the White House.
But after a burst of attention, Issa's investigation appears to have stalled. Although he turned up embarrassing material—has any government official been humiliated quite like the IRS commissioner in the dorky video dressed up as Spock?—Issa hasn't made the all-important connection to the White House. And he may not be able to. The news this week that he won't release the full transcripts of his interviews with IRS officials—interviews he selectively quoted from to imply White House complicity—suggests that what they contain may in fact exonerate the administration of the very charge Issa is laboring so hard to prosecute.
"Your push to release entire transcripts from witness interviews while the investigation remains active was reckless and threatened to undermine the integrity of the committee's investigation," Issa wrote in response to a letter from his Democratic counterpart, Representative Elijah Cummings of Maryland, who himself had selectively quoted the transcripts and then called on Issa to publicize the whole thing.
In theory, Issa could be building a case against the White House to rival Watergate that he just isn't quite ready to unveil. But that's highly unlikely. Cummings has seen the transcripts and wouldn't call for their release if they contained information that would fell his party's president. Issa's weak-tea defense of why he won't comply—witnesses might be demoted or fired, he says—only buttresses this suspicion. So does the effort by Issa's colleague, Representative Dave Camp of Michigan, to broaden the investigation's scope to include donor audits. You don't broaden an investigation if you've found the smoking gun and nailed the culprit.
"We're not anywhere near being able to jump to conclusions," Camp told reporters, including Bloomberg's Richard Rubin, on Wednesday. So the IRS investigations will continue. But it's getting harder to imagine that they'll turn up evidence of a Nixonian plot, and if they don't, Issa will have failed again.
Before it's here, it's on the Bloomberg Terminal.
LEARN MORE