Consumer Comfort in U.S. Declined Last Week to Two-Month Low
Lorraine Woellert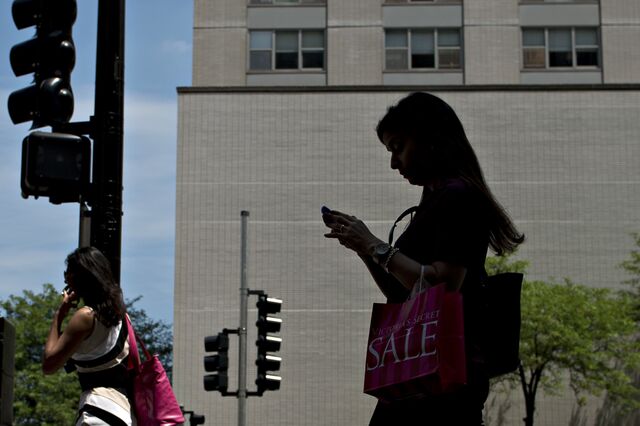 Consumer sentiment fell last week to a two-month low as Americans' views toward their finances and buying plans faded.
The Bloomberg Consumer Comfort Index declined to minus 31.3 in the period ended June 9, the lowest since early April, from minus 29.7 a week earlier. Consumers' views on their personal finances fell to the weakest in more than two months and their opinion of the buying climate was at its lowest since mid-March.
While rising home values and equity values this year have brightened the outlook for some households, the index has shown little forward momentum since reaching a five-year high of minus 28.9 in April. That means gains in optimism may be susceptible to setbacks should employment slow, wages remain stagnant or the stock market continue to retreat from May's record high.
"Much of the improvement in sentiment over the last six months has had to do with modest wealth effects," said Joseph Brusuelas, a senior economist at Bloomberg LP in New York. "As volatility has crept into the market, middle- and some upper-income earners likely are becoming more concerned about the state of their financial portfolios."
Americans are also probably starting to feel the effects of higher taxes that took effect in January, Brusuelas said.
Other reports today showed retail sales climbed more than forecast in May and the number of applications for jobless benefits dropped last week.
Purchases increased 0.6 percent, the biggest gain in three months, following a 0.1 percent advance in April, Commerce Department figures showed. The median forecast of 83 economists surveyed by Bloomberg called for a 0.4 percent advance.
Fewer Claims
Jobless claims dropped by 12,000 to 334,000 in the week ended June 8 from 346,000 the prior period, the Labor Department reported today in Washington. The median forecast of 51 economists surveyed by Bloomberg called for 346,000. Applications fell to a five-year low of 327,000 in late April.
Stocks fell amid speculation a stronger-than-projected economic data may prompt the Federal Reserve to pare stimulus. The Standard & Poor's 500 Index declined 0.2 percent to 1,609.1 at 9:40 a.m. in New York.
The outlook among consumers with annual incomes of $100,000 or more was little changed at 8.3 compared with 8 a week earlier, capping 19 weeks of positive readings, today's comfort data showed. Those on the next few rungs of the income ladder showed less progress.
The index for households earning between $75,000 and $100,000 fell for the first time in six weeks, to 5.3 from 8.9, which was the highest in more than five years.
Income Breakdown
Households earning between $50,000 and $75,000 a year lost ground for the fifth week, falling to minus 27.9 from minus 23.1. Confidence among homeowners reached a two-month low, falling to minus 26.7 from minus 23.5.
"These indicators show the still-unsettled nature of the recovery, with housing and stock market improvements offset by a still-uninspiring employment situation," said Gary Langer, president of Langer Research Associates LLC in New York, which conducts the comfort survey. "Consumer views reflect this tension."
Fewer consumers said the time was right to buy things. A measure of the buying climate fell to minus 42.1 from minus 40.8 percent a week earlier.
A gauge of the economy's health was the only one of three components to gain ground, improving to minus 52.5 from minus 53.
Lower-Income
Lower-income Americans have benefitted the least from equity prices and the housing recovery, said David Tehle, chief financial officer at Dollar General Corp., based in Goodlettsville, Tennessee. The retailer's customers generally earn $50,000 or less a year, don't own homes, and don't have investments or retirement funds that reap the benefits of stock market gains, he said. Some are making less money than they once did.
"I don't think there is any doubt that the recovery we're seeing right now is uneven," Tehle said at a June 12 conference. "As I look at our core customer, the biggest issue they are facing probably is not unemployment, it's underemployment."
The Bloomberg Consumer Comfort Index conducts telephone surveys with a random sample of 1,000 consumers 18 and older. Each week, 250 respondents are asked for their views on the economy, personal finances and buying climate. The percentage of negative responses is subtracted from the share of positive views and divided by three. The most recent reading is based on the average of responses over the previous four weeks.
The comfort index can range from 100, indicating every participant in the survey had a positive response to all three components, to minus 100, signaling all views were negative. The margin of error for the headline reading is 3 percentage points.
Before it's here, it's on the Bloomberg Terminal.
LEARN MORE