B-School Prof Takes On Teacher Ratings: 'I'm Not a Dancing Bear'
Louis Lavelle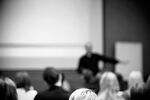 A business professor in England is leading a campaign against a website that asks students to rate their professors, calling it "inhumane, dangerous for students, flawed."
The professor is Bill Cooke from Lancaster University, and the target of his ire is Rate Your Lecturer, one of several similar websites (such as Rate My Professors in the U.S.) that give students a chance to evaluate teachers on a 10-point scale on teaching ability, feedback, and other categories.
In a blog post entitled "We Are Not Dancing Bears: Opposing Rate Your Lecturer," Cooke makes the argument that teaching is demanding work—work that he puts a lot of thought and effort into—and he shouldn't be subject to public ridicule for doing it.
"I am a human being. I'm not a dancing bear," he writes. "I have a mum and a dad and a partner and children, and friends and neighbors. If my occupation makes me personally the subject of anonymous, public comments about my day-to-day performance or appearance that they and anyone else can read then that is not the job I signed up for."
Cooke, who has not yet been rated on the site, adds that Rate Your Lecturer does not protect students from the potential legal consequences of their anonymous comments should they turn out to be libelous—or just wrong. He goes on to give detailed instructions for opposing the site to any professors similarly outraged. These include contacting the owner of the company behind the site (he supplies his e-mail address) to demand the removal of your name or to charge the company £75 a day for its use "to be paid to a charity of my choice."
The founder of Rate Your Lecturer, Michael Bulman, told Times Higher Education that he believes many U.K. institutions of higher education hold research in higher regard than teaching, and that his site would "help to redress the balance."
"When I was at uni, people were comparing and contrasting their courses and lecturers and saying how some were better than others," he told THE. "I also spent a year in the U.S., where they already have the Rate My Professors site, and the idea came from there. I just thought I could do it better."
Rate My Professors, which was launched in 1999 and is now owned by Viacom's MTV Networks, has its own share of critics. Among other things, they say the anonymous ratings and comments result in biased and inaccurate evaluations, in part because multiple ratings can be posted by the same person, who may or may not have taken a class from the professor they're rating.
Join the discussion on the Bloomberg Businessweek Business School Forum, visit us on Facebook, and follow @BWbschools on Twitter.
Before it's here, it's on the Bloomberg Terminal.
LEARN MORE