pursuits
Virtual Country Club Brings Golf to Midtown Manhattan
By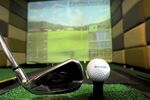 For New Yorkers who can't bear the inconvenience of schlepping out of Manhattan to get to a fancy golf course, now there's a virtual alternative. Billed as the city's "first urban golf country club," Golf & Body NYC is a 25,000-square-foot temple to the sport conveniently located just east of Penn Station. Players can tee off on seven simulators offering 25 virtual courses, including Pebble Beach and St. Andrews.
The on-site director of fitness, Ben Shear, is a trainer who works with a roster of PGA players, including Luke Donald and Jason Day. There are also several putting greens, a gym, a restaurant, and a "wellness" facility offering yoga and acupuncture. The emphasis is on the body side of the club's name, according to general manager Jeannine Harrington. The club, she says, is intended to be a health-minded sanctuary where you can keep up your game while marooned in a sea of concrete. Plus, she adds, "We have a level of golf training that is really unmatched."
The private club, which officially opened in January, is the brainchild of a former commodities broker named Tom Schiff, who is the chief executive officer and owner. The membership fees aren't for halfhearted duffers: There's a $5,000 initiation and annual membership dues come to $7,500. But the club offers discounts for corporate accounts. "We have a lot of financial institutions," says Harrington. "We have people tied to Deutsche Bank, to Condé Nast, and to big engineering firms. They're significant people in their business community." There are at least 60 members so far, with a goal of expanding to 250.
"It has an entertainment aspect, as well," says Harrington. "I have guys who bring clients in for long-drive contests or closest-to-the-pins, and they kind of entertain themselves and can have a drink at the restaurant." It is a country club, after all.
Before it's here, it's on the Bloomberg Terminal.
LEARN MORE