Burberry Invites You to Make Out With Your Phone
Allison McCann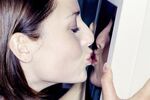 For being the laziest, most entitled, and most narcissistic generation, younger consumers sure are getting a lot of attention from companies. The latest foray into the minds of millennials? Get them to make out with their phone or perfect the kissy-faced selfie on their desktop, sending digital kisses to anyone in the world. The result resembles a lipstick smooch on the back of virtual envelope.
Burberry and Google unleashed their interesting new advertising partnership, "Burberry Kisses," digitizing the most intimate form of communication—and arguably the absolute last thing you'd want to do to your phone—because millennials (narcissists) are into that sort of thing. The campaign was designed and executed by Google's Art, Copy & Code project, a series of storytelling partnerships designed to "re-imagine how brands tell stories in a connected world."
Today is my dad's birthday, so I dared to duck-face in the office to see just what Burberry Kisses are all about. After a quick glance around, I hastily pressed my lips to my phone, which were promptly lacquered onscreen in the digital equivalent of Union Red No.17, one of five Burberry lip colors to choose from. The remnants of my real-world Chapstick greased my phone. I wrote a quick birthday note and sent my postcard sailing clear across the country, virtually, to the tune of some very soothing ukulele strumming.
The process was painless, albeit very weird and perhaps a bit unsanitary. If pressing your actual lips to your phone disgusts you, you can still pucker up in front of a webcam where the "unique kiss-detection technology" promises to capture the shape of your lips. Curious to see just how far kiss-detection technology has advanced, I discovered that even a tongue or nose or the worst kiss imaginable will suffice; Google and Burberry will still grant you some luscious round ones in the digital rendering. There's no technological innovation going on here, save for the beautiful Web design and animation.
All joking aside, it's clear that companies like Burberry recognize the importance of digital-advertising campaigns geared toward Web natives. So the brand's partnership with Google makes sense—even if it doesn't make much obvious sense for Google. Despite the very impressive HTML5 interaction and uniformity across devices, the idea behind campaigns geared toward millenials is still lacking. The process took time, filling out e-mails and destinations—and maybe that's the point—but I could have much more easily e-mailed my dad a photo of a kissy face. Better yet, I could have taken a Snapchat and saved myself the time and embarrassment of putting actual lip to screen.
The project seems like an interesting use of Google's resources, but there is probably no shortage of them. For Burberry, an "iconic luxury brand," the partnership hints at an ongoing effort to prove the company is embracing Web culture. Even the selfie.
Before it's here, it's on the Bloomberg Terminal.
LEARN MORE