Banned at Work: Employers Blacklist Apps From Facebook, Google
By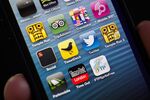 Even before revelations of Prism-gate emerged a week ago, chief information officers had been cracking down on employees using apps built by Facebook and Google—two of the tech giants ensnared in the National Security Agency spying scandal—while on the job. Facebook and a host of Google apps top the corporate blacklist league table, according to a new study compiled by mobile device management specialists Fiberlink. These forbidden apps for smartphones and tablets are joined on the list by such popular file-sharing applications as Dropbox and SugarSync, plus productivity killers such as Netflix and Angry Birds, as the chart below shows.

"The pursuit of protecting corporate data and ensuring employee productivity is driving the decisions behind which apps get blacklisted," says Chris Clark, president of Fiberlink. "CIOs are really grappling with how to unlock maximum productivity for employees in this BYOD [bring your own device] era but want to ensure, first and foremost, there are no data leakages." As a result, about 10 percent of the 4,500 global companies reviewed in Fiberlink's study have compiled a list of forbidden workplace apps as part of a larger IT security policy. It's not an entirely new corporate trend, but one that's increasingly considered as more and more employees bring their personal smartphone or tablet to work.
Of course, getting employees to heed the rules is a huge challenge for bosses. As more CIOs realize it's a losing battle to explicitly ban some apps in the workplace, a small group—less than five percent of companies in the Fiberlink study—have found a middle ground, instituting a "whitelist" of permitted apps.

As the chart above shows, the short list of permissible apps are those that are more likely to boost workplace productivity. PDF readers, barcode scanners, maps, and translation tools all make the list. Alas, social networking apps don't make the cut.