Will Fox's ESPN Alternative Resist the Siren Call of Tebow?
Can Fox Sports 1 resist his charms?
by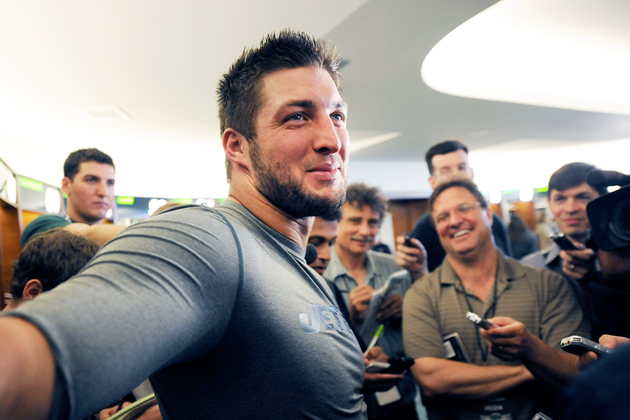 Yesterday the New England Patriots invited a back-up quarterback to join the team for pre-preseason workouts. Naturally, ESPN devoted prime-time coverage to the event. Such is the pull of Tim Tebow, the Heisman Trophy winner, Denver Broncos sensation, New York Jets bust, gestural evangelist, elixir salesman, and news-hole filler extraordinaire. (Yes: We, too, are helpless in the face of Tebow's exposed biceps and winning attitude.)
Back in March, when News Corp. announced plans to launch its own  24-hour network to rival ESPN—dubbed Fox Sports 1—the company took swipes at the "worldwide leader in sports" for its monotonous devotion to all things Tebow. Reporters assembled for the event were shown "a robot in a video, repeating the phrase 'Tim Tebow' over and over again." ESPN President John Skipper had already admitted that his network had gone overboard. "Guys, we didn't handle this very well," he says he told producers.
But as Skipper has also pointed out, the Tebow supply is a response to Tebow demand: "The guy's very popular," he told Sports Business Journal. "In our business, we do want to drive ratings." When Fox Sports 1 goes on the air in August, hungry to steal a few viewers and starving to fill the long, slow summer days, Tebow will be there waiting. So will Tebow's new boss, grumpy, hoodied troll Bill Belichick; his new colleague, dimple-cheeked starting quarterback Tom Brady; and even Brady's Brazilian supermodel wife Gisele. Expect Fox to bring back that Tebow robot.
Before it's here, it's on the Bloomberg Terminal.
LEARN MORE