Why Amazon Wants to Sell Books and Broccoli
Bill Carmody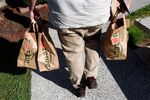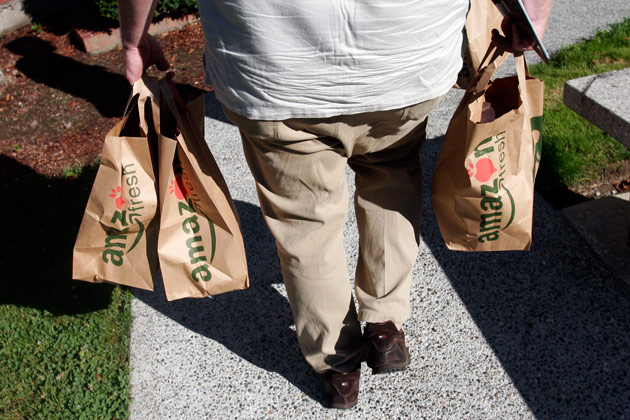 What is Jeff Bezos up to now?
Amazon reportedly is set to expand its online grocery business, AmazonFresh, from the company's home market in Seattle to Los Angeles. According to a published report, the retail giant is targeting as many as 20 markets in this push.
Can Amazon succeed where Wal-Mart Stores and Costco Wholesale (COST) fear to tread?
Bezos is betting customers will combine their grocery orders with selections from among Amazon's 500,000-plus product offerings, such as movies, books, video games, and motor oil. While general grocery margins are razor-thin, Amazon reckons it can leverage those deliveries to up-sell higher-margin merchandise. Maybe.
But viewing the company's move as an up-sell opportunity that can cover delivery costs would be an oversimplification that misses the bigger picture. For starters, the wealth of consumer data Amazon gathers to enhance the effectiveness of ad targeting for brands will only increase as it continues to build out its product offerings with groceries and apparel. The company also is working on its own ad-targeting technology to further enhance its attractiveness to brand and direct-response advertisers.
EMarketer recently estimated that Amazon earned more than $600 million in ad revenue in 2012, a 45.5 percent increase from 2011. The company is expected to reach more than $835 million this year and more than $1 billion by 2015. Imagine what Amazon could charge for all the data-driven insights it captures around your previous grocery (and non-grocery) purchase decisions. Consumer brands already pay a small fortune for the coupons you receive upon checkout, hoping to influence your purchase decision on your next grocery store visit. And since trade spending is estimated to be more than 60 percent of a consumer-product company's marketing budget, according to CPGmatters, this could easily be another billion-dollar opportunity for Amazon.
Last year, Forbes asked, "Will Amazon Become the Next FedEx?" On first blush, it seemed a ridiculous question. Why would an e-commerce juggernaut want to move into its partners' delivery logistics space? As the article points out, "One is a retailer with big warehouses and the other is a big shipping company with similarly big warehouses. But if you think of both moving into logistics, the science of getting box A to destination B more efficiently, it makes more sense."
Now add grocery delivery into the mix. As Amazon steps up its delivery frequency, it increases its need to efficiently deliver packages from its warehouses—but paying FedEx and UPS eats into its margins. If AmazonFresh customers are willing to pay for more frequent deliveries, it gives Amazon what it needs to move in on this lucrative business and pocket those margins. This could be a natural evolution, with grocery delivery helping the company reach the critical mass necessary to make the model work. Of course, Amazon would have to invest in buying and maintaining its own fleet of trucks, but it has already proved this is not a gating factor in the Seattle and L.A. markets.
Amazon has spent five years refining AmazonFresh before venturing out to Los Angles—and beyond. The company is making bold moves, but they are well calculated and tested. Remember, there were a number of naysayers when Amazon introduced its book service during the dot-com era, as it did not expect to make a profit for four to five years. It survived when so many others failed. Now, Amazon wants to sell you groceries. And, chances are, if you live in one of its targeted markets, you will see quite an interesting transformation of the Amazon you thought you knew.
Before it's here, it's on the Bloomberg Terminal.
LEARN MORE