U.K. Celebs Compete to Sketch Elephants as Zynga App Moves to TV
by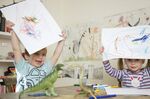 "Draw Something," the Pictionary-like social app that pits amateur Picassos against each other drawing anything from elephants to scenes from "Titanic," is moving to the small screen, part of a burgeoning trend of smartphone apps like Rovio's "Angry Birds" finding new life on bigger screens.

The U.K.'s Channel 4 is turning the app into a TV game show hosted by Mel Giedroyc, best known for "The Great British Bake Off" on BBC2. "Draw It" features two celebrities paired with ordinary folks, doodling it out each week in the hopes of winning 5,000 pounds ($7,800). The show is being produced by Victory Television and will begin airing this summer.
More than 8,000 people have applied to participate, many through the "Draw Something" app, according to Channel 4. The app -- which has been downloaded more than 50 million times -- is from U.S. game-maker Zynga Inc., which also gave the world popular apps like "Farmville," where users build farms and manage livestock.
Sony Pictures -- also linked to the "Angry Birds" film -- will distribute the show internationally through its TV unit.
Before it's here, it's on the Bloomberg Terminal.
LEARN MORE