S&P's Latest Delusion: It's 'Increasingly Clear' Banks Won't Get Bailouts
The ratings agency set JPMorgan's rating outlook equal to other systemically important banks.
by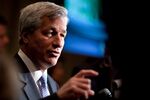 Standard & Poor's, saying that it is "increasingly clear" that the government may not bail out big banks in another crisis, downgraded JPMorgan Chase's credit rating outlook this morning to "negative," bringing it into line with seven other key financial institutions.
Since the bank rescues of 2008, investors have assumed that the United States government and others around the world won't let banks fail, lest they bring the economy down with them. That's more or less still the consensus. Senators Sherrod Brown (D-Ohio) and David Vitter (R-La.) introduced a bill in April on the theory that the biggest legislation to come out of the crisis, the Dodd-Frank Act, hasn't adequately solved the problem of "Too Big To Fail." Bloomberg View argues that the largest U.S. banks get a taxpayer subsidy of $83 billion a year because of this perception, realized in the form of lower borrowing costs.
S&P apparently sees things differently. The ratings agency cited "the evolving nature of extraordinary government support" in docking its outlook on JPMorgan, the largest U.S. bank by assets. "We believe it is becoming increasingly clear that holding company creditors may not receive extraordinary government support in a crisis," the agency wrote. Specifically, S&P said it will review the progress regulators have made towards their goal of an "orderly liquidation authority." That refers to a plan under Dodd-Frank in which the Federal Deposit Insurance Corporation takes over a failing bank and methodically works through its shareholders and creditors.
S&P also revised its outlook on the long-term rating of the United States on June 10: from negative up to stable. The agency had downgraded the U.S. credit rating from AAA to the second-tier AA+ in August 2011, adding to a short-term panic in the markets. Stocks have gone on a tear since that seemingly scary moment, with the S&P 500-stock index gaining 17 percent; investors mostly ignored S&P's announcement on Tuesday. As of midday, shares of JPMorgan were down about 1 percent.
Before it's here, it's on the Bloomberg Terminal.
LEARN MORE