NBA to Sell Ad Space on the Hardwood
Branding beneath the players' feet.
by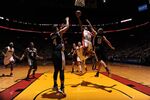 Next season, the NBA will begin allowing teams to sell advertising on the court—though out of bounds, in a space along the sideline, in front of team benches that the league calls the "apron." The trial program, according to the league, will use decals that will be removed for nationally televised games. An earlier proposal to sell 2.5-by-2.5-inch sponsor patches on team jerseys stalled (some might say predictably) over revenue-sharing concerns. By using decals and limiting the program to locally televised games, the league sidesteps some of the tension between small franchises and big market ones.
Last year, sponsorship experts gave us estimates for the price of the jersey patches, ranging from as little as $300,000 a year for the Minnesota Timberwolves to $15 million for the Los Angeles Lakers. Eric Smallwood, an analyst at Front Row Marketing Services who tracks what appears on screen in sports broadcasts, estimates that local-only sponsorship packages for the proposed 60-foot court space might sell for from $450,000 to $2.5 million per year. "It's going to be pretty powerful," says Smallwood. "You're looking at about 220 [on screen] occurrences per game." (A smaller space being made available on top of the backboard for overhead camera shots, Smallwood says, should go for $50,000 to $100,000.) Both new spaces, currently used for team branding, are likely to be sold as part of larger sponsorship packages, probably to existing team partners. "That's prime real estate," says Smallwood. "Very rarely does anybody get court level advertising without buying a bigger package."
Before it's here, it's on the Bloomberg Terminal.
LEARN MORE