NBA to Sell Ad Space on the Hardwood
Branding beneath the players' feet.
By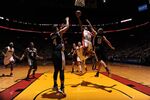 Next season, the NBA will begin allowing teams to sell advertising on the court—though out of bounds, in a space along the sideline, in front of team benches that the league calls the "apron." The trial program, according to the league, will use decals that will be removed for nationally televised games. An earlier proposal to sell 2.5-by-2.5-inch sponsor patches on team jerseys stalled (some might say predictably) over revenue-sharing concerns. By using decals and limiting the program to locally televised games, the league sidesteps some of the tension between small franchises and big market ones.