Investors Bet on Mom and Pop
by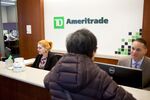 Traders seem to think the individual investor will increasingly learn to stop worrying and love the bull run.
Bloomberg's Whitney Kisling and Alexis Xydias delved into how shares of discount brokers have risen the most since 2003, compared with the Standard & Poor's 500-stock index, a sign that the retail investor is participating in the equity bull market and will devote more cash to keep it running.
Indeed, according to the American Association of Individual Investors, allocation to cash is at its lowest level in two years.  Still, the AAII Investor Sentiment Survey noted that bullish sentiment was down and bearish sentiment up during the early June sell-off—the biggest in six months. The survey's bearish sentiment reading of 39 percent compares to a long-term average of 31 percent.
The market is giving discount brokers the benefit of the doubt, betting that retail commissions will keep coming in. This year, shares of Charles Schwab, TD Ameritrade Holding, and E*Trade Financial have gained 38 percent on average—23 percentage points more than the S&P 500. That caliber of outperformance was seen in 1997, 1999, 2003, and 2009, years in which the S&P 500 rallied an average of 14 percent from June through December. In the last six months of 1997 and 2003, stock mutual funds took in $108.5 billion and $91 billion, respectively, vs. about $12.3 billion so far in 2013, according to Bloomberg and the Investment Company Institute.
Individuals yanked about $400 billion from stock funds from 2009 to 2012; they simultaneously put more than $1 trillion into bonds. So far this year, U.S. equity exchange-traded funds have drawn $79 billion, according to Deutsche Bank and Bloomberg data.
"It says something about an improvement of confidence among our biggest sector of the economy, retail investors and households," said James Paulsen, chief investment strategist at Wells Capital Management. "When the retail investor finally gets more confident about the future, flows follow."
Transactions are up at the discount brokers. TD Ameritrade's average trades per day last month were 13 percent more than in the same period a year ago. E*Trade's revenue-generating trades climbed 11 percent from May 2012, while Schwab customers increased trading by 3 percent in April.
This year's 15 percent gain on the S&P 500 is the best start to a year since 1998. TD Ameritrade's Investor Movement Index, the brokerage's sentiment gauge, is at its highest level since June 2011.
"Our clients with their actions have taken increasingly bullish positions," TD Ameritrade chief executive Fred Tomczyk said during a June 6 conference. "There's definitely more activity in the market."
Laszlo Birinyi, president of Birinyi Associates, notes that flows tend to multiply late in a rally, forcing the skeptically sidelined to finally get in.
That's one read. There's also that old Wall Street saw about about mom & pop investors traditionally being the last ones to arrive at a rally.  The market, alas, is up 143 percent in a little over four years.
Before it's here, it's on the Bloomberg Terminal.
LEARN MORE