business
Internship Pay Is Flat for Business Students
Geoff Gloeckler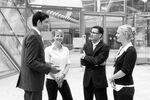 Summer internship salaries are flat for both MBAs and business majors this year, according to new data collected by the National Association of Colleges and Employers (NACE).
For MBAs, NACE found the average intern salary for the summer is $22.97 per hour, the fourth-highest wage among master's students, behind engineering ($24.43), physical sciences ($23.58), and mathematics ($23.40). In 2012 the average hourly wage for an MBA intern was $22.63.
The typical MBA internship lasts 10 weeks, so considering a 40-hour work week, the average salary for an MBA intern in base pay is about $9,200 for the summer of 2013. This number varies considerably, though, depending on the industry and which MBA program the student attends. The average monthly salary for a financial analyst at Northwestern's Kellogg School of Management last summer, for instance, was $7,000 a month, or about $17,500 for the entire internship. For the average consulting intern at Kellogg, the total summer compensation in base salary eclipsed $20,000 in 2012, according to the school.
At the undergraduate level, business majors who are rising seniors are earning an average of $16.03 per hour this summer, compared with $15.97 last summer, according to Edwin Koc, director of research at NACE. The undergraduate majors that command the highest intern salaries are engineering ($20.36), computer science ($18.96), and mathematics ($18.15). Overall, undergrad intern salaries remained nearly identical to those from 2012 ($16.26 per hour this year, vs. $16.21 in 2012).
The NACE internship data comes from the 306 companies that responded to its 2013 Internship & Co-op Survey from mid-November to Feb. 1.
Join the discussion on the Bloomberg Businessweek Business School Forum, visit us on Facebook, and follow @BWbschools on Twitter.
Before it's here, it's on the Bloomberg Terminal.
LEARN MORE