business
Construction Is Finally a Bright Spot for Small Companies
By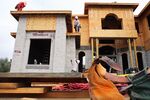 Is the recovery in home prices finally translating into jobs? Small businesses in the Southeast U.S. have a mixed outlook for the next year, according to the latest semi-annual survey by the Atlanta Fed, but real estate stood out as a bright spot:
"Firms that have improved their outlook the most are in construction and real estate. Over the past year and a half, this industry has risen from the least likely to anticipate hiring to the most likely to anticipate hiring."
The National Federation of Independent Business's monthly survey also showed growing confidence among small businesses.
Most of the jobs being created these days are in service industries. Employment in construction and manufacturing was flat in the jobs report released last week. One of the reasons small businesses have been slow to recover from the downturn, even four years into the nominal recovery, is that the construction sector, dominated by small companies, never bounced back from the collapse of housing prices.
The Atlanta Fed surveyed 478 companies with fewer than 500 employees, located in Alabama, Florida, Georgia, Louisiana, Mississippi, and Tennessee. The region includes Sun Belt states that suffered severe drops in home prices. Housing gains have also improved the outlook for small businesses in the Western U.S. The survey showed improving credit conditions, too, particularly for borrowers applying to large national banks.
The improvement in outlook for construction and real estate firms is just that—a better outlook. When the bank asked small businesses a year ago, 46 percent expected to hire in the following 12 months. The latest survey showed that only a net 3 percent of respondents added jobs. But the rise in home prices and easing credit is clearly welcome news to the Southeast's battered construction sector.
Before it's here, it's on the Bloomberg Terminal.
LEARN MORE