China's Economic Trouble Isn't Slowing Innovation
Harold L. Sirkin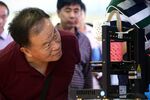 One of the biggest mistakes we all make at times is acting as though our competition is standing still. The same holds true for countries and economies.
China, for example, is galloping ahead at breakneck speed, despite its current economic issues and the prospect of weak employment. It seems more than willing at times to disregard some of the generally accepted rules of the road, a topic President Obama raised last weekend, when he met Chinese President Xi Jinping in California. Chinese espionage—whether aimed at the U.S. government or U.S. companies—has to end. But we can't put our plans on hold waiting for that to happen.
I have written about the rising cost of Chinese labor and the rebound of U.S. manufacturing. Viewed in isolation, however, these trends provide a distorted picture.
While China is losing certain low-skill, low-wage manufacturing jobs to even lower-wage countries, and the United States and Mexico have become more attractive manufacturing destinations for some higher-end products intended for the North American and Western export markets, China is working hard to move up the value chain. If that's where your company is, you need to be aware and prepared.
I was reminded of this by China's flirtation with "additive manufacturing"—more commonly known as 3D printing. The process, which is still more or less in its infancy, was originally used to produce architectural and manufacturing prototypes. Uses are expanding rapidly, especially in manufacturing.
China is investing heavily in this technology. The National Laboratory for Aeronautics and Astronautics at Beihang University (a major research institution) has a mammoth 3D printer, which it's using to produce sophisticated parts for China's ambitious commercial aircraft industry.
This is just one example of the fast progress China is making in the areas of science and technology. Another is in the area of supercomputers, where it appears that China is poised to unveil a machine that is "rather dramatically" faster than the fastest machines from U.S. supercomputer leaders Cray and IBM.
We have all seen the statistics about the number of science, math, and engineering students that are graduating from Chinese universities each year. China's not standing still in this area, either. China announced plans just two years ago to increase annual enrollment of post-doctoral fellows at its major research institutions to 17,000 by 2015, some 60 percent more than the number that were enrolled in such programs in 2010.
China similarly has been boosting its research and development spending. On a year-to-year basis, the website asianscientist.com reports, annual R&D spending increased on average more than 20 percent per year during the six-year period from 2006 to 2011. Last year, it increased slightly less: only 17.9 percent. According to some estimates R&D spending in China will surpass that in the U.S. by 2023.
The results already show where they count. China reports granting more than 217,000 patents last year to Chinese and overseas applicants, an increase of more than 26 percent over 2011. And 2011 was a banner year, with Chinese companies and inventors filing more patent applications than those of any other country.
The lesson here is simple: Those who viewed China simply as a low-cost manufacturing haven have deluded themselves. The coin of the realm in today's China is change. And the speed at which it is changing is amazing.
Before it's here, it's on the Bloomberg Terminal.
LEARN MORE