China: Employment Trouble Ahead
by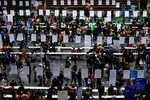 China's economic headache just got a little worse. Along with rising local debt, plunging exports, and lackluster investment, add the specter of weak employment. "Hiring plans in China stand at their weakest level since 1Q 2010," warned Manpower Group in a June 11 press release (PDF) for its quarterly China employment outlook survey. "Quarter-over-quarter, the Outlook declines by 4 percentage points and hiring plans are 6 percentage points weaker year-over-year," the report (PDF) says.
Manpower surveyed 4,241 employers in mainland China, asking their hiring plans for the period from July through September. Manpower's "net employment outlook" simply refers to those who plan to hire, less those who say they will cut staff. Manpower canvasses companies every quarter in 42 countries and territories. China fell in the bottom six for weakness, with India and Sweden even worse. "Employers in two of the [Asia Pacific] region's largest economies—China and India— continue to scale back their hiring plans," Manpower said in its global report (PDF), released at the same time.
While companies in China still plan to bring on staff—14 percent say they will hire and only 2 percent plan to fire (45 percent say no change is expected)—many more say they are uncertain about what the future will bring. That number grew from 26 percent a year ago to 39 percent today.
"We still face challenges of an uncertain economic environment overseas, such as the euro-zone recession and sluggish US demand, and this is definitely having an impact on China's outlook in coming months." said Zhang Jinrong, Managing Director of ManpowerGroup China, in the press release. "Rising production costs are also influencing employer hiring plans. The overall cost advantages that Chinese companies have traditionally enjoyed may gradually disappear."
The findings revealed where the real weakness is. Of the six industry sectors surveyed, all showed hiring plans weaken quarter-over-quarter, as well as from a year ago. Most pessimistic were firms in finance, insurance and real estate, with an outlook decline of 20 percentage points over the same quarter in 2012, and the mining and construction sector, down 11 percentage points. Even those less-gloomy industries showed notable declines: a six percentage point drop for both the services and wholesale and retail trade sectors, and a 5 percentage point drop for manufacturers
The employment survey follows some disappointing news for China's entire manufacturing sector. The HSBC purchasing managers' index, released on June 3, showed the first deterioration in overall conditions in seven months, a decline in orders and export orders, and the second month in a row in which companies reported job cuts. "The rate of job shedding was modest, and linked to both employee resignations and companies down-sizing," according to the HSBC statement.
"Employment matters a lot for them. If the labor market does well, then social and political pressures on the government will not be an issue," says Louis Kuijs, chief China economist at Royal Bank of Scotland in Hong Kong. "If we are going to see labor market weakness, it is going to be harder for the government to resist calls for more stimulus—and a more expansionary stance."
Before it's here, it's on the Bloomberg Terminal.
LEARN MORE