Behind the Car Sales Boom: Piles of Cash on the Hood
by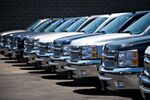 The economy may be having a car sales party, but automakers are spiking the punch. U.S. auto incentives in May jumped to 8 percent of market value—or almost $2,500 per vehicle—marking the highest level in about two years, according to data released Tuesday by Edmunds.com.
Car companies are squeezing margin for volume, which is great for buyers and not necessarily a bad thing for shareholders. "It's all part of keeping things chugging along," says Edmunds.com analyst Jeremy Acevedo. During the dark days of the recession when consumer confidence was running on fumes, carmakers were offering about 10 percent of vehicle value to get buyers onto lots.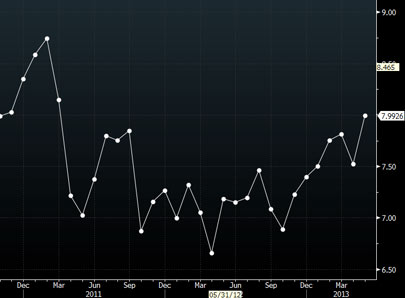 The problem is that increasingly rich incentives aren't moving the needle much on sales. The pace of car-buying, while brisk, hasn't changed much since November when the country was on an annual pace of 15.46 million light-vehicle sales. That figure had trickled down to 15.24 million in May, even as incentive deals have been getting sweeter all the while. In recent weeks, meanwhile, Nissan also cut the sticker price on a number of models while Volkswagen rolled out a new lease program that lets customers drive off without paying cash upfront.
Detroit's Big Three have been particularly generous. Chrysler offered incentives worth 10.3 percent of vehicle value last month, second only to Mitsubishi, which has more freedom to squeeze profit margins given the weak yen. General Motors' incentive rate was about 10 percent, in part because of cash offers of $500 to $750 per Chevrolet over the Memorial Day period. Ford has been offering almost 9 percent off market value.
Acevedo says a focus on truck sales may have driven incentives higher. "They are more expensive vehicles, and buyers always really count on some kind of cash on the hood," he says. The offers could get even sweeter this summer when dealers need to make room for 2014 models that will roll onto lots in September.
Before it's here, it's on the Bloomberg Terminal.
LEARN MORE