business
The Best Undergraduate B-Schools for Business Law
Geoff Gloeckler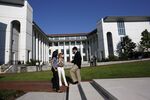 As part of the 2013 Best Undergraduate B-Schools ranking, Bloomberg Businessweek asked undergraduate business students from this year's graduating class to tell us, via an online survey, about their business school experience, from getting in to getting a job. One section of the survey singles out specific aspects of the business program and asks students to grade them on a scale from A to F. Over the next few weeks, we will publish the top 10 B-schools in each specialty area, from accounting to entrepreneurship, culminating with publication of the entire undergraduate specialty ranking, which will include 124 schools.
Today we look at business law. Leading the way is Emory University's Goizueta Business School.
The heart of business law at Goizueta is professor Allison Burdette. The winner of multiple teaching awards (and named a "favorite professor" by Businessweek in 2012), Burdette teaches the "Legal Environment of Business" course that is mandatory for every undergraduate business student. Students say the course is demanding, but they rave about Burdette and say it serves as good preparation for the future, as more than 10 percent of Goizueta grads go on to law school after graduation.
Apart from the mandatory course, the school offers an elective called "Law and Business," which is also taught by Burdette; a class in the finance concentration called "Real Estate Law"; and a senior seminar course called "The Business of Law," which is taught by an alum from Emory's School of Law, and provides students with practical and professional knowledge that falls outside the scope of traditional academic coursework, explains Andrea Hershatter, director of the BBA program at Goizueta.
Outside of the classroom, the school offers a student-run business law club, which brings in speakers and offers professional outreach for members to get a sense of what their careers might look like.
Following Goizueta in the business law ranking is Loyola University Maryland's Sellinger School of Business. Similar to Goizueta, Sellinger business students are required to take "Legal Environment of Business," which is offered through the university's law school. In addition, they have the option of taking a wide variety of business law electives, including "Internet Law," "Global Labor Rights," and "Sports Law."
The University of Miami's School of Business Administration, Southern Methodist's Cox School of Business, and Cornell's Dyson School of Applied Economics and Management round out the top five in the business law specialty ranking. Below is the list of the top 10 schools for business law.
Top Undergraduate Business Schools for Business Law
| | | |
| --- | --- | --- |
| 1. | Emory (Goizueta) | 1.036 |
| 2. | Loyola-Maryland (Sellinger) | 1.090 |
| 3. | U. of Miami | 1.129 |
| 4. | Southern Methodist (Cox) | 1.138 |
| 5. | Cornell (Dyson) | 1.140 |
| 6. | Purdue (Krannert) | 1.145 |
| 7. | Boston U. | 1.161 |
| 8. | Notre Dame (Mendoza) | 1.186 |
| 9. | Texas-Austin (McCombs) | 1.196 |
| 10. | Connecticut | 1.222 |
Methodology: The ranking is based on responses to a question asking students to rank their program's business law offerings. Points are awarded for each response—ranging from one point for an A grade through five points for an F grade—and they are then averaged for each school. If students did not have exposure to the area in question, they could answer NA and their response was not included. The ranking is based on the average; schools with the lowest average are ranked the highest. The average business law score for all 124 undergraduate business schools in the ranking was 1.47.
Join the discussion on the Bloomberg Businessweek Business School Forum, visit us on Facebook, and follow @BWbschools on Twitter.
Before it's here, it's on the Bloomberg Terminal.
LEARN MORE