Lululemon's CEO Recalls Herself
by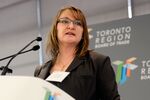 Transparency is a loaded word when it comes to Lululemon Athletica. (See: embarrassing see-through yoga pants and their subsequent recall in March). But that was the word Christine Day used when announcing her surprise resignation as chief executive officer. On Monday she said she would step down once a successor is named. Going public about her departure, she said, would allow the board of directors to "openly search for the next CEO."
In a conference call, Day, who has led Lululemon for five years, said the decision to resign was hers and is personal. "The plans have been laid for the next five years and the vision for the next 10," she said. "The timing is right to bring in the next CEO candidate." In a statement on Lululemon's website, the company says it expects the transition to occur over the next six months.
An obvious candidate to replace Day is Chip Wilson, the charismatic entrepreneur who founded Lululemon and serves as chairman of the board. (See: the recent return of former bosses at JC Penney and Procter & Gamble). On that matter, the Lululemon statement says: "Chip is focused on his responsibilities as the chairman of the board, and particularly on leading the selection process for the next CEO."
Day's last several months have been tough. The recall eventually encompassed 17 percent of Lululemon's popular black Luon yoga pants. Sheree Waterson, the company's chief product officer, resigned in April as a result of the fiasco. The black pants were back in stores by the end of May. Howard Tubin, an analyst with RBC Capital Markets, wrote: "We assume Day's pending departure is in some way related to the sheer pant issue."
Day, 51, declined to say what she will do next.
Before it's here, it's on the Bloomberg Terminal.
LEARN MORE