Hitler Hummed Tauber Tunes Revisted by Polish Tenor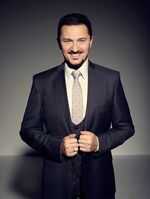 As so often, I thought of Hitler the other day while listening to music he loved.
I don't mean "The Badenweiler March," so inspiring to the SS, or the inevitable Wagner.
A good part of the fuhrer's "heart" -- I think that in this context quotation marks are required -- was reserved for the sentimental tunes of Franz Lehar (1870-1948), the Austro-Hungarian composer of "The Merry Widow" and "The Land of Smiles."
Pontevedro's rich widow still waltzes through international theaters, but the romance of a Chinese prince and a Viennese countess is remembered mostly by a single song: "Dein Ist Mein Ganzes Herz" ("My Heart Is Yours Alone"), which will probably be heard until the lights dim on this planet.
Few are the tenors who do not croon the tune at least once in their lives, and just now I heard it on a new album featuring the Polish Piotr Beczala, who recently made a splash at the Metropolitan Opera as the Duke in "Rigoletto."
A good-looking stylist with an easy top register and flawless German, he dedicates his recording to a famous tenor of another era, Richard Tauber, a silver-voiced Austrian born to wear spats, top hat and a monocle.
Tauber Song
Tauber (1891-1948) inspired an aging, clapped-out Lehar to write new hits that featured what became known as a "Tauberlied" -- a soaring tune designed to show off the tenor's high range and stop the show.
Wrapped in the silken robes of the fatalistic Chinese prince, Tauber drove the Viennese crazy when he sang "My Heart Is Yours Alone" in 1929. Fortunately, Tauber had the brains to scoot off to London not quite 10 years later, when the same Austrians began pitching Jews into the Danube after the Anschluss in 1938. Tauber had tainted blood.
Using modern technology, Beczala sings a duet with his idol, joining him on a 1934 recording of "You Are the World to Me" -- a song Tauber also composed. It's too short and strange a track to compare the two tenors, though YouTube and older recordings suggest Tauber had a softer, sweeter delivery, while Beczala's timbre is more heroic. But what taste, charm and passion he brings to these songs of yesteryear.
Beczala even makes Rudolf Sieczynski's hackneyed "Vienna, City of My Dreams" a pleasant excursion into nostalgia, and I was drawn into the sadness of Robert Stolz's "Don't Ask Me Why I'm Going; the Song Is Over." Still, Lehar prevails, a rather pitiful man when he wasn't composing.
Auschwitz Death
Though adored by Hitler, who awarded him the Goethe medal on his 70th birthday, Lehar did nothing to help the co-librettist of "The Land of Smiles," Fritz Loehner-Beda, who was killed in Auschwitz after years of abuse. Often, he asked about his old friend Lehar. He seemed confused and hoped to hear from him.
There is no record that Lehar asked about Loehner-Beda. Lehar had a house in Vienna and a villa in Bad Ischl. He had a cook and a butler. He also had a Jewish wife, and though friends in high places protected her throughout the war, the Gestapo once paid them a frightening visit.
Meanwhile, Loehner-Beda's wife and two small children spooked hungrily through the family home, lost in a bureaucratic maze as they tried to squeeze a few pennies from his frozen bank accounts, before they too were killed.
Lehar lived until 1948. He really felt bad about Loehner-Beda, he said.
Tauber survived the war, only to die of lung cancer. His last performance, in London in September 1947, is the stuff of legend.
Goodwill Tour
With only one functioning lung, Tauber spun out the plaintive phrases of the hopeful Don Ottavio in Mozart's "Don Giovanni." The production featured artists of the Vienna State Opera who were visiting London on a goodwill tour.
What must he have thought! Only a few years before, their overlord had perfected Blitzkrieg bombing on the city that had sheltered him from their hate.
Tauber had little time to ponder the irony. A few days later, his diseased left lung was removed and in January he passed away.
"Heart's Delight: The Songs of Richard Tauber" is on the Deutsche Grammophon label.
(Manuela Hoelterhoff is executive editor of Muse, Bloomberg's arts and culture section. Any opinions are her own.)
Muse highlights include John Mariani on wine, Daniel Akst on books.
Before it's here, it's on the Bloomberg Terminal.
LEARN MORE