Battle of Perception Between the Government and SAC Capital
By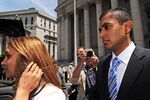 As the clock runs out on deadlines for prosecutors to file charges against SAC Capital's Steven Cohen over trades that occurred during the summer of 2008, the war between the billionaire hedge fund founder and the government has opened a new front: the battle of perception.
Last week, the second-quarter deadline for investors to withdraw money from SAC's funds came and went, with billions believed to have been submitted for redemption amid an intensifying government inquiry into trading at the firm. Rather than release final redemption numbers into the whirlwind of handicapping and speculation that was taking place, however, SAC sent an e-mail to its employees indicating that it expected to continue operating normally, with a stable capital base and no layoffs. Redemption requests were "significant" is all the company would say. Mid-August is the next opportunity for investors to request to withdraw money from the fund. The goal seems to be to last out the summer, when the five-year statute of limitations to bring charges over two sets of trades—in Elan and Wyeth, and in Dell—expires, and Cohen can presumably heave a sigh of relief. Cohen has not been charged.
During a hearing on Thursday, Judge Paul Gardephe set a date of Nov. 4 for the trial of Mathew Martoma, the former SAC portfolio manager who was charged with insider trading in Elan and Wyeth last November. Martoma has pleaded not guilty. The most intriguing observation to emerge from the hearing was that the government has indicated to Martoma's lawyers that it may file a "superceding indictment" in the case. This means that prosecutors might add new charges or defendants, which could alter the case significantly. Or it could be something much less dramatic.
On June 7, the Securities and Exchange Commission extracted penalties from yet another fund manager for insider trading in a handful of technology stocks. Victor Dosti, of California-based Whittier Trust, was charged with illegal trading in Dell, Nvidia, and Wind River Systems. Dosti and Whittier agreed to pay $1.7 million to settle the charges, which emerged as part of the SEC's investigation into expert networks, which has yielded dozens of charges. The Dell trades are some of the same ones that have already taken down a handful of other hedge fund executives and traders, most recently SAC portfolio manager Michael Steinberg, who was charged with insider trading in March, and whose own trial is scheduled to begin Nov. 18. Steinberg pleaded not guilty. In the absence of cooperation from Martoma, the government's best case against Cohen himself may be related to Dell, so he is sure to be watching the proceedings closely.
Before it's here, it's on the Bloomberg Terminal.
LEARN MORE