At Apple's WWDC, Big Updates Without Big Surprises
by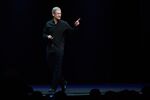 Apple spoke to members of its developer community at the company's 24th annual Worldwide Developers Conference on Monday. The high-tech giant unveiled a music-streaming service called iTunes Radio, new versions of its MacBook Air laptops and Mac Pro desktop, new operating systems for the Macintosh and iPhone, and a simplified, flashier design that will span all of its products and services.
"We want to make the best products that people use more and love more than anybody else's," said Chief Executive Officer Tim Cook.
The product unveilings were embraced by the hooting and hollering fans who show up every year to pack San Francisco's Moscone Center. Without any big surprises, however, the two-hour presentation most likely left investors and the broader public wanting. Apple's stock is down 37 percent from a high set last September and was relatively flat in Monday trading during the conference, which was broadcast live online.
If Apple has been in a funk, it's an extremely profitable funk. The company earned more than $22 billion in net profit during the six months ended in March. Still, investors worry that the company hasn't produced any new hits since the iPad, especially with Google's Android operating system gobbling up market share on mobile devices. Android ran on 74 percent of global smartphones shipped during the first quarter, vs. 16 percent for Apple's iOS, according to research firm Gartner.
The changes to iOS, which runs on the iPhone, iPad, and iPod touch, were the highlight of Monday's event. Cook called the iOS 7 "the biggest change to iOS since the iPhone." Pioneered by design chief Jony Ive's team, the operating system has a striking new look, including a new color palette and livelier backgrounds. The old real-world visual cues familiar to iOS users, like wooden bookshelves in the e-book app, are gone.
Apple is counting on having kept the system relatively familiar, though. "Installing iOS 7 on your phone is like getting a new phone, but one that you already know how to use," said Craig Federighi, Apple's senior vice president in charge of software engineering.
The mobile software, available this fall, comes with 10 new features, including multitasking for all apps and background updates for those used most frequently. Siri, the voice-recognizing virtual assistant, comes with new voices and can be integrated with services such as Twitter, Wikipedia, and Microsoft's search engine, Bing.
Previewing other changes coming with iOS 7, Eddy Cue, Apple's senior vice president for Internet software and services, introduced iTunes Radio, which will be built into iTunes on all Apple devices. Like Pandora, it allows users to stream collections of songs by similar artists. Apple recently signed licensing agreements with the three major music labels—Sony, Universal, and Warner. The free service is available in the U.S. and is paid for with ads.
Apple also introduced a new line of MacBook Air laptops, which use Intel's low-powered Haswell processor. The ultrathin computers are getting a battery boost and should now last more than nine hours on a single charge. The 11-inch and 13-inch models start at $999 and $1,099, respectively, and go on sale today.
Apple also previewed a dramatic new design for an upcoming generation of its Mac Pro desktop. The computer is shaped like a cylinder and colored a glossy black. "Can't innovate anymore, my ass," said marketing Vice President Phil Schiller, addressing Apple's critics, to thunderous applause from the audience. The pint-size but high-powered Pro goes on sale later this year, and Apple said it will be "assembled" in the U.S.
Starting this fall, new Macs will run the latest version of Apple's OS X operating system, called OS X Mavericks. (Previous releases, such as Mountain Lion and Cheetah, were named for cat species, but Federighi noted: "We do not want to be the first software release in history constrained because of a dwindling supply of cats.") Mavericks comes with some new tricks, including support for multiple display monitors; better battery management; file tagging, so users can find stuff more quickly on their computer, and an update to Apple's Safari Web browser.
The company is also bringing the iBookstore, its e-book catalog of textbooks, trade fiction, and nonfiction, to the Macintosh. Apple is currently squaring off with the U.S. Department of Justice, which brought an antitrust suit against the company, accusing it of conspiring with major book publishers to raise e-book prices.
Before it's here, it's on the Bloomberg Terminal.
LEARN MORE