Wall Street Cheers a Tepid Jobs Report
by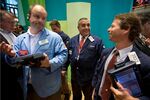 Professional traders may not be rooting for higher unemployment, exactly. But they sure seem to like it when they see it.
Stocks are up after this morning's publication of the May employment report, which showed the unemployment rate increasing from 7.5 percent to 7.6 percent. That continues a trend since May 22 of markets rising on bad news, and falling on good news, after Federal Reserve Chairman Ben Bernanke testified that the central bank could slow down its monthly bond buying soon if the economy showed sustained improvement.
This wasn't a terrible jobs report—in fact, it showed that payrolls rose by 175,000, beating the Bloomberg forecast of 163,000. And the small uptick in unemployment was mostly due to more Americans entering the labor force and looking for jobs; long-term "discouraged workers" are excluded from the report. Some 420,000 people entered the labor force, the Labor Department said, more than the 319,000 gain in employment, for a net increase in the jobless rate. Still, the overall report was certainly not evidence of a roaring economy.
Bernanke has said he wants to see the unemployment rate fall below 6.5 percent, before reducing the Fed's $85 billion of asset purchases each month (as long as inflation remains manageable). Since this latest round of "quantitative easing" was announced in September, the loose money policy has kept interest rates low, and therefore bond prices high, and made it more attractive for investors to seek out higher returns in riskier assets, such as equities. The Standard & Poor's 500-stock index hit an all-time high May 21, the day before Bernanke's remarks, and has climbed nearly 15 percent this year. That has traders interpreting every bit of economic data through the lens of how it will influence the Fed. The better the economy, the sooner Bernanke will turn off the easy money spigot. The worse the economy, the longer the party can last.
There's more on this obsession with "tapering" and the way it has made every day on Wall Street into Opposite Day in the new issue of Bloomberg Businessweek.
It's not easy to be an American searching for a job right now. Knowing that Wall Street is making money when there are more of you out there makes it that much harder.
Before it's here, it's on the Bloomberg Terminal.
LEARN MORE