Wal-Mart's Best Deal: A Free Talent Show
by and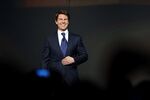 The Wal-Mart show did not disappoint today.
A crew of A-list celebrities showed up at the annual meeting of the world's biggest retailer, wowing thousands of employees and investors in attendance, as well as the masses who tuned in to the live Webcast (replay available here).
One would assume Wal-Mart handed each of the celebrities a small fortune. Oddly, it didn't. None of the stars were paid to appear, according to a Wal-Mart spokeswoman. Nor, she says, did the company promise any special treatment for the performers' music and/or movies sold in its 10,000 stores around the world.
Hugh Jackman, Jennifer Hudson, Kelly Clarkson, and John Legend belted out songs gratis. Tom Cruise hit the stage in a snazzy blue suit, praising the company's charitable contributions.
Unless the stars just happened to be passing through Fayetteville, Ark., they probably had to travel quite a while to get there. And the meeting wasn't all light banter and Broadway hits. There were les misérables, as well. Wal-Mart executives faced protests all week over low wages, alleged bribery of officials in Mexico, and the working conditions in garment factories in Bangladesh.
So why so much Hollywood love for the Waltons? What does someone like Tom Cruise get out of the corporate circus, besides perhaps some free aviator sunglasses and tighty whiteys? Well, if you're in the entertainment business, much of your pay is tied to Wal-Mart already—directly or indirectly.
Consider Lions Gate Entertainment, which sells movies, TV shows, and soundtracks. Wal-Mart accounted for 38 percent of its disc sales last year, according to Securities and Exchange Commission filings. No doubt, the impact is similar for a company like United Artists, which Cruise and his production partner, Paula Wagner, took over in 2007. The pair owns 30 percent of the label, according to the Los Angeles Times, a stake that's currently riding on Cruise's last movie, Oblivion.
Wal-Mart's Hollywood ties tightened this summer when the retailer struck a deal with Warner Bros. to sell tickets to its Man of Steel blockbuster before box offices.
Clarkson, meanwhile, is one of Wal-Mart's "featured artists," commanding a prominent spot on its "soundcheck" Web store, in addition to premium shelf space.
At its core, though, the annual meeting has become a publicity bonanza, not unlike celebrities making the rounds of late-night talk shows. Jackman joked today about naming his next Broadway show Sam's Club, but the actor has something more pressing in the works: His latest X-Men vehicle, The Wolverine, hits theaters next month.
Of course, Jackman might also be a shareholder. Wal-Mart's stock price was up almost 2 percent at one point this morning.
Before it's here, it's on the Bloomberg Terminal.
LEARN MORE