business
The Surprising Benefits of International Enrollment
Louis Lavelle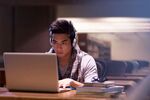 For years, business schools have tried valiantly to recruit more international students, with mixed success. The top 10 full-time MBA programs in the latest Bloomberg Businessweek ranking had incoming 2012 classes that, on average, were 36 percent international students. The argument is that interacting with students from other cultures would prepare graduates better to compete in a global economy.
But precious little research has been done on whether a large international population is beneficial—until now. Researchers at Duke examining the impact of international college students on those from the U.S. found significant benefits, and not just the ones you'd expect.
In an article published in the June issue of the Journal of International Students, David Jamieson-Drake and Jiali Luo (the director and assistant director of institutional research at Duke, respectively) draw on a 2005 online survey of 5,676 U.S. alumni of four highly selective universities. The respondents are from the graduating classes of 1985, 1995, and 2000.
Survey respondents were asked about the extent to which they interacted with students from outside the U.S. as well as how much their undergraduate institution contributed to their development in 21 areas. What the researchers found was remarkable. Not only did graduates who interacted with international students in college go on to acquirie the skills you'd expect—speaking a foreign language and relating well to people of different cultures—they also developed a host of cognitive skills that are seemingly unrelated.
Among them: the ability to question their own beliefs and values; acquire new skills and knowledge independently; formulate creative ideas; integrate ideas and information; achieve quantitative abilities; understand the role of science and technology in society; and gain in-depth knowledge in a specific field. In each case, graduates who reported high levels of interaction with international students reported "significantly higher levels of skill development" than those who reported little or no interaction.
Why this should be is a bit of a mystery. Encountering people with sharply different backgrounds and ideas produces "cognitive disequilibrium" that promotes intellectual growth, the authors say, adding that some of the quantitative benefits of interaction with international students may simply be the result of their math and science skills rubbing off on their American friends.
What does this mean for business schools? In an e-mail interview, Jamieson-Drake says most MBA programs rely on student teams, essentially baking international interaction into the curriculum, so most grads will likely experience the benefits outlined in the study. But he notes that college programs are different. In each of the three graduating classes studied, about 25 percent of the survey respondents reported having little or no interaction with international students.
If schools are promoting their international diversity to attract domestic students with global interests, they may be inadvertently practicing a "bait and switch," he says—luring students with the promise of global experience and doing little to actually promote the interaction that's critical to it. It's not enough to toss international students into the soup, he says. You have to stir the pot, too.
Join the discussion on the Bloomberg Businessweek Business School Forum, visit us on Facebook, and follow @BWbschools on Twitter.
Before it's here, it's on the Bloomberg Terminal.
LEARN MORE