The Companies' Lines on Prism
by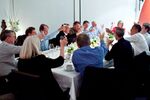 In a series of terse statement, all the companies named in the reports about NSA's Internet snooping program, Prism, have denied involvement. All these companies have been compelled to share personal data with the government at some time, which they tacitly acknowledge by saying they only do so after careful consideration and court orders. "Direct access" to servers, though, is a bridge too far, they say; Google also uses the engineer-y term "back door" to explain the access it's not granting to the federal government. Facebook and Google start off by saying how much they value their users' privacy, probably because they've been through the fire over personal data many times before. And Apple, AOL, and PalTalk claim never to have heard of the program, maybe just because the NSA doesn't disclose the code names of its operations to companies it is demanding information from.
Here are all the statements, if you want to place outsize significance on the minor differences between them yourself.
AOL: "We do not have any knowledge of the Prism program. We do not disclose user information to government agencies without a court order, subpoena or formal legal process, nor do we provide any government agency with access to our servers."

Apple: "We have never heard of PRISM. We do not provide any government agency with direct access to our servers, and any government agency requesting customer data must get a court order."

Facebook: "Protecting the privacy of our users and their data is a top priority for Facebook. We do not provide any government organization with direct access to Facebook servers. When Facebook is asked for data or information about specific individuals, we carefully scrutinize any such request for compliance with all applicable laws, and provide information only to the extent required by law." — Joe Sullivan, chief security officer.

UPDATE | CEO Mark Zuckerberg posted the following comment on his Facebook page:

I want to respond personally to the outrageous press reports about PRISM:

Facebook is not and has never been part of any program to give the US or any other government direct access to our servers. We have never received a blanket request or court order from any government agency asking for information or metadata in bulk, like the one Verizon reportedly received. And if we did, we would fight it aggressively. We hadn't even heard of PRISM before yesterday.

When governments ask Facebook for data, we review each request carefully to make sure they always follow the correct processes and all applicable laws, and then only provide the information if is required by law. We will continue fighting aggressively to keep your information safe and secure.

We strongly encourage all governments to be much more transparent about all programs aimed at keeping the public safe. It's the only way to protect everyone's civil liberties and create the safe and free society we all want over the long term.

Google (via the Washington Post): "Google cares deeply about the security of our users' data. We disclose user data to government in accordance with the law, and we review all such requests carefully. From time to time, people allege that we have created a government 'back door' into our systems, but Google does not have a back door for the government to access private user data."

Microsoft: "We provide customer data only when we receive a legally binding order or subpoena to do so, and never on a voluntary basis. In addition we only ever comply with orders for requests about specific accounts or identifiers. If the government has a broader voluntary national security program to gather customer data we don't participate in it."

PalTalk: "We have not heard of PRISM. Paltalk exercises extreme care to protect and secure users' data, only responding to court orders as required to by law. Paltalk does not provide any government agency with direct access to its servers."

Yahoo (via Mashable): "We do not provide the government with direct access to our servers, systems, or network."

YouTube is owned by Google, and Skype is owned by Microsoft.
Before it's here, it's on the Bloomberg Terminal.
LEARN MORE