Subway Imagines a Future With 100,000 Sandwich Shops
by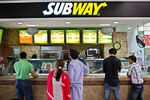 Subway is already the largest fast-food chain by store count, with 39,500 restaurants worldwide. But that's nothing compared with its expansion plans in the coming years, as the sandwich maker projects adding more than 10,000 new stores by 2017 and openly discusses the prospect of getting to 100,000 by 2030.
Breakneck growth is nothing new at Subway. The company has added 11,000 locations to its all-franchise roster since 2007, and executives believe their appetite for expansion is far from sated. "In our highest-density markets, we're at one for every 8,000 people. So if you do that math, we can have a lot more stores," says Don Fertman, the chain's chief development officer. And just how does the math work out? Hypothetically, Fertman explains, it would take another 480,000 stores distributed across all areas where Subway operates before the chain had one location per 10,000 people—and that doesn't include the markets it hasn't entered yet. "Is that a realistic number? Probably not," he admits.
Still, Subway does have more achievable plans for the near future. "We have a real goal of getting to 50,000 stores by 2017. And we have a goal of—not a goal, but what we call a possibility—we have a chart that shows the possibility of us getting to 100,000 stores by 2030," says Fertman. Such an increase would significantly boost the brand. A new ranking by researcher Millward Brown says Subway is the 51st most valuable brand, with an estimated brand value of $16.7 billion. In 2007, with some 28,500 outlets, Subway ranked 80th.
About half of Subway's roughly 200,000 franchise inquiries each year come from North America, but the company sees most of the growth opportunity overseas. Fertman expressed particular excitement about sub-Saharan Africa amid ongoing growth in South Africa, Tanzania, and Zambia; Subway shops in Kenya will open soon. There are still some potential U.S. targets, he says, namely in Philadelphia, New York City's outer boroughs, and Boston. The Northeast, surprisingly, has been the hardest region for franchisees of the Milford (Conn.) company to crack—an issue Fertman attributes to customers loyal to local mom-and-pop restaurants.
Being a franchisee is far from easy, and Fertman emphasized that finding good development agents—often former franchisees who become independent consultants—is key to future growth. Each agent is in charge of helping franchisees in their region find locations that will work, a task that requires strong local knowledge or good instincts. An agent needs to understand, for instance, how traffic flows in the neighborhood, what streets people walk and drive down (a difference of one block can make or break a business), the city's development plans, and the area's population trends. Subway already has about 350 development agents, and while all the regions in North America are claimed, the company's looking for more overseas.
"Someday someone is going to have 100,000 stores," Fertman says. "Who will it be? Maybe it will be us."
Before it's here, it's on the Bloomberg Terminal.
LEARN MORE