Study Abroad: Staying Safe When Trouble Erupts
Louis Lavelle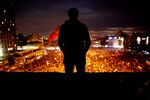 A week of violent anti-government demonstrations in Turkey has focused the world's attention on the dangers westerners sometimes face when traveling in foreign lands.
Few people are more vulnerable than students, who sometimes travel to the world's hot spots for internships and study-abroad programs. MBA students from George Washington University who finished a one-week residency in Ankara on June 1 were forced to move after the protests erupted, the GW Hatchet reports. Twenty students from Syracuse University spending a semester in Istanbul have been urged to leave the country after the school ended the program a week early. And a group of MBA students and a senior administrator from NYU's Stern School of Business, in Turkey for a course that ended June 4, had to be relocated to a safe location after the violence broke out, says Stern spokesperson Jessica Neville.
To find out how students can stay safe when foreign travel puts them in harm's way, Bloomberg Businessweek spoke to John Rendeiro Jr., vice president for global security and intelligence at International SOS, a Singapore-based company hired to provide medical, security, and evacuation services for student groups and others traveling far from home.
Rendeiro says most students get into trouble because they let their curiosity get the best of them. "They're going to want to get out and see things and do things," he says. "You don't want to damp down that youthful enthusiasm, but being in jail in most countries is not a pleasant thing."
He says the best way to get out of trouble is to not get into it in the first place. Here's his advice:
Prepare: Know the location of your hotel and how to get there, and make sure you have reliable transportation. Know who to call in the event of emergencies—for students traveling abroad as part of a study group, this will probably be the program director or faculty member they're traveling with. Keep all your documentation in a secure location. If you take medication, take enough for the entire trip, make sure you have the necessary clearance to get it into the country, and have a way to resupply once you arrive. Carry only the cash and valuables you absolutely need.
Register With the U.S. Consulate: In the event of a large-scale emergency, registering at the U.S. Embassy ensures that the U.S. government knows your whereabouts and how to contact you. It also allows you to receive updates on travel warnings, travel alerts, and other information. Register, online, before you leave or as soon as you arrive.
Stay Alert: Rendeiro suggests monitoring the local news media for demonstrations and other hot spots, and steering clear of those locations. "If you find yourself in the vicinity of a protest, don't take pictures, and get away from that area as quickly as possible," he advises.
Don't Get Involved: The temptation, especially for students, is to want to be at the center of the action, but that's usually a big mistake. "It's a really bad policy to get involved in demonstrations in a foreign country. You could be injured, or you can come to the attention of police," Rendeiro says. "It doesn't pay to get involved when there's a chance that things can get violent."
Call the Embassy: If you find yourself in a real jam—you're in police custody or have a serious medical problem or injury—call the U.S. Embassy, which can help locate medical assistance or legal representation. You should also contact your group's program director or faculty leader, as well as the security provider for the trip, if there is one.
And if you don't have access to a phone? Be prepared to wait. "If you're with an academic program, the directors take their responsibility very seriously and they'll know if somebody is missing," Rendeiro says. They'll probably be looking for you within hours, but finding you may take a lot longer.
Join the discussion on the Bloomberg Businessweek Business School Forum, visit us on Facebook, and follow @BWbschools on Twitter.
Before it's here, it's on the Bloomberg Terminal.
LEARN MORE