One Battle IT Cannot Win: Banning Work on Your Smartphone
By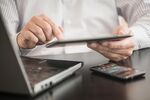 Well-intentioned though they may be, IT department bans on using personal gadgets for work aren't very effective. Even employees in highly regulated industries such as health care and finance prefer at times to use their own gadgets or apps to get the job done, according to new research from U.K. technology consultancy Ovum. The firm's study of over 4,300 professionals from 19 countries showed that on the high end, employees are using their own device or app for more than 30 minutes (and sometimes, much longer) each day on work-specific tasks. The rest of the time they are toiling away on company equipment, but even a few minutes spent on non-company devices or third-party apps is enough to freak out security-focused IT personnel or data-protection obsessed regulators.
Still, in corporate security vs. employee convenience, the workers are winning. Seven out of 10 smartphone-owning professionals polled said they bring their own smartphone to work daily. (This raises the question: Who leaves theirs home?) Of that 70 percent, one in five do so in spite of an anti-BYO devices policy. The study involved professionals in 19 countries, including the United States, India, China, Australia, much of Western Europe, and emerging markets in Asia and Latin America.
The BYO workplace phenomenon has grown considerably over the past five years, trending alongside the explosive growth of the smartphone, tablets, and apps markets and transforming the way we work. These ubiquitous, powerful technologies are increasingly seen not as a distraction but as tools of an efficient, engaged workforce.
The Ovum study, for example, found that 25 percent of those surveyed said they use unsanctioned apps to send work-related e-mails, to update their calendars, or to transfer work files while away from their desk. They are IM-ing or Skype-ing customers and clients, too. A smaller number even use collaboration apps such as Yammer or Jive to brainstorm on big projects. Sometimes they'll enlist the IT department, albeit after the fact, and the programs end up sanctioned for the workplace.
"We are seeing companies adapting, trying to find a middle ground," says Ovum analyst Richard Absalom. "If they see a lot of key employees bringing iPhones to work, they'll give them company-sanctioned iPhones to use."
Before it's here, it's on the Bloomberg Terminal.
LEARN MORE