Oakley Wants Female Customers (but Not the Lazy Ones)
By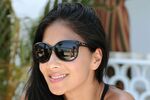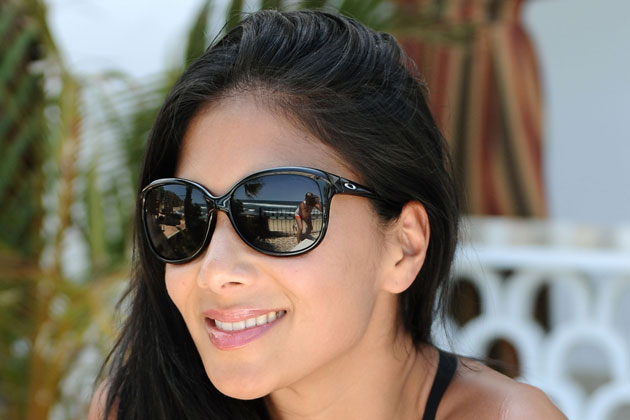 A new print ad for Oakley features a woman in brightly colored athletic wear stretching before a run. She's emotionless, her eyes hidden behind a pair of sunglasses that look more suited to Anna Wintour than a peloton rider. Behind her sits a group of women idly drinking coffee, scowling, and twirling their hair. The message: "for exercising, not socializing."
The image is part of an aggressive campaign by the California-based performance eyewear and apparel company as it tries to break into the lucrative female market dominated by brands such as Lululemon and Nike. For all its business in the $14 billion industry—Oakley is a subsidiary of Luxottica Group and doesn't release sales figures—only 10 percent of its total revenue is attributed to female customers. The campaign, called "Made for More," promotes an intense, no-nonsense lifestyle, unsubtly reminding women that while athletic gear may be comfortable, it's not for lounging around in. Another ad declares Oakley clothing "for running, not running errands."
"Our purpose as a brand is to inspire, disrupt, and design," Josée Perreault, a senior vice president for global business at Oakley, told Advertising Age about the campaign. The reviews so far are mixed.
"My first impression when I look at this new attempt to bring Oakley into the female market was that it was a step backwards for the brand," says Marissa Vosper, a senior strategist at branding agency Wolff Olins in New York. "It seemed reliant on a rather antiquated or stereotypical vision of what women are, and what athleticism is. They're framing the messaging from a negative standpoint as the anti-Lululemon, and trying to divide women as opposed to empowering them."
Pioneers in performance sunglasses and ski goggles, and inventors of the aerodynamically functional yet aesthetically challenged "blades," Oakley has experienced a few recent branding stumbles. It was the last major sponsor to drop former seven-time Tour de France winner Lance Armstrong last October after he was stripped of his titles following his doping mea culpa. And the brand severed ties in February with double-amputee Oscar Pistorius, the South American sprinter known as "Blade Runner," who stands accused of murdering his girlfriend. (In an unfortunate moment of product placement, Pistorius hid underneath the hood of a sweatshirt emblazoned with Oakley's oval "O" as he made his perp walk in February.)
According to Perreault, the company's attempt to feminize isn't just a superficial ad campaign. In addition to making its women's lines of glasses more fashionable, Oakley is actively placing women in high-level management jobs within the company. It recently partnered with Bridget Brennan, a marketing consultant and author of the book Why She Buys, to institute a training program for its retail employees on how to better speak to female customers in their stores.
Still, "there are brands out there doing a much better job of speaking to women in a much more modern way," Vosper says. "Nike embraces everyday activity as a way to celebrate the athlete in everyone—whether its jumping up and down in front of your television or going for a 10K run, you can be an athlete in your own way."
Before it's here, it's on the Bloomberg Terminal.
LEARN MORE