Did Small Businesses Hire in May? Depends What You Mean by 'Small'
by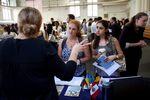 The U.S. economy added 175,000 jobs in May, according to data released this morning by the Bureau of Labor Statistics. How did small business fare? The answer depends on the size of the companies surveyed.
Confidence at "microbusinesses" is at a two-year high, according to SurePayroll's Small Business Scorecard: 75 percent of business owners surveyed said they were optimistic about the U.S. economy, despite an 0.3 percent decline in hiring. The average company in the survey had 8 employees.
Small businesses shrank slightly last month, according to a survey of 715 member companies of the National Federation of Independent Business. About 90 percent of NFIB members have fewer than 20 employees. Job creation was basically flat at the average business surveyed by NFIB in May, after five consecutive months of job growth.
As John Tozzi noted on Wednesday, businesses with fewer than 50 workers added 58,000 jobs in May, according to payroll provider ADP.

The CBIZ Small Business Employment Index, which polls about 3,500 companies with fewer than 300 workers, painted a rosier picture, as the barometer for small business hiring trends increased 1.91 percent from April, the largest month-to month increase in the past year.
The unemployment rate for self-employed, unincorporated, and unpaid family workers was 5.3 percent, up from 4.9 percent in May 2012, according to the Bureau of Labor Statistics.
The BLS isn't doing a good job tracking the self-employed, Sara Horowitz, executive director of the Freelancers Union, said on Bloomberg Television this morning.
Before it's here, it's on the Bloomberg Terminal.
LEARN MORE