Cameron to Attend Closed-Doors Bilderberg Meeting
Thomas Penny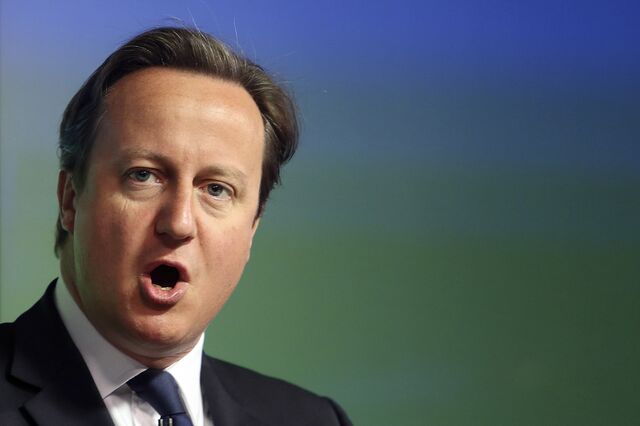 U.K. Prime Minister David Cameron, who has put transparency at the heart of his chairmanship of the Group of Eight, will attend a meeting of the Bilderberg organization that's being held behind closed doors near London.
Cameron will go to the annual invitation-only meeting of European and American business and political leaders at a hotel outside Watford later today, his spokesman said. The group, which has met since 1954 and issues no details on the content of its discussions, published a list of about 140 participants on its website that include International Monetary Fund Managing Director Christine Lagarde, Zurich Insurance Group AG Chairman Josef Ackermann and BP Plc Chief Executive Officer Bob Dudley.
"He's been invited and sees this as an opportunity to engage in a number of discussions on key economic issues with senior ministers, business people and academics," the premier's spokesman, Christian Cubitt, told reporters in London. "It's a private meeting so we won't be giving any details."
Cameron was invited as head of government of the host country for this year's meeting, Cubitt said. He said there was no contradiction with the premier's stated commitment to transparency.
"The prime minister regularly has meetings with key ministers from other countries and with business people and others as part of his job," Cubitt said. "That doesn't mean he's not determined to lead the most transparent government."
Police have sealed off the hotel that's hosting the meeting. Television pictures yesterday showed opponents of the conference and anti-capitalist protesters demonstrating as cars arrived.
"The conference is a forum for informal, off-the-record discussions about megatrends and the major issues facing the world," the Bilderberg group says on its website. "Thanks to the private nature of the conference, the participants are not bound by the conventions of office or by pre-agreed positions. As such, they can take time to listen, reflect and gather insights. There is no detailed agenda, no resolutions are proposed, no votes are taken, and no policy statements are issued."
The meeting started yesterday and continues until June 9.
Before it's here, it's on the Bloomberg Terminal.
LEARN MORE