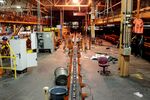 The U.S. lost manufacturing jobs in May, even as overall employment rose. That calls into question President Barack Obama's promised "manufacturing renaissance"—and raises the question whether the president will press Chinese President Xi Jinping about trade issues when the leaders meet in California today and Saturday.
Overall, the Bureau of Labor Statistics' jobs report was respectable, if not great, considering the impact of January tax increases and the automatic spending cuts that began in March. Payrolls rose by 175,000, just slightly more than the 163,000 median prediction of economists surveyed by Bloomberg News. The unemployment rate edged up to 7.6 percent, from 7.5 percent, but that was because of a flood of new entrants into the labor force—a sign of confidence in the economy.
For blue-collar workers thrown off of the production line, though, the news was bad. Manufacturing employment fell 8,000, following declines of 9,000 in April and 4,000 in March. Those aren't big declines for a sector that employs 12 million people, but the Obama administration has been touting an increase in employment, not decreases. The unemployment rate in manufacturing is slightly below the overall rate at 6.8 percent, but that's because many former factory workers have drifted into other fields or given up looking for work and are thus not counted among the unemployed.
The meeting at the Sunnylands estate between Obama and Xi is billed as a friendly get-to-know-you session. Alan Tonelson, a research fellow at the U.S. Business & Industry Council, which represents manufacturers, says that Obama should instead take the opportunity to press Xi to stop export subsidies and discouragement of imports from the U.S. "This is a mistake that American presidents have been making since World War II, when Franklin Roosevelt thought he could charm the pants off Joseph Stalin," Tonelson says.
Administration officials, aware of fears that Obama will be soft on China, say they're willing to play hardball when necessary. A senior administration official told reporters on June 4, "We've brought cases at the WTO at a greater pace than any previous administration, and we won those cases in terms of sticking up for U.S. businesses. So we have demonstrated that when we believe that we're not making progress simply through dialogue, we're willing to use the measures available to us within the international system to elevate those concerns."
Meanwhile, the government is pressing forward on efforts to rejuvenate the U.S. manufacturing sector. In May, following up on a commitment in the State of the Union address, the White House announced competitions to establish three manufacturing innovation institutes.
The monthly jobs report showed that May job gains came in professional and business services (57,000), food services and drinking places (38,000), retail trade (28,000), and health care (11,000). Manufacturing wasn't the only sector in the red: Federal government employment fell 14,000 as the automatic spending cuts of sequestration began to bite.
Economists said the lukewarm report probably did little to affect when the Federal Reserve might begin to taper its purchases of bonds, which it's buying to hold down long-term interest rates.
The Economic Policy Institute, which advocates stronger efforts to increase employment, said in a statement that "at this pace, it will take more than six years to get back to the pre-recession unemployment rate."
Before it's here, it's on the Bloomberg Terminal.
LEARN MORE