pursuits
Wine in a Can Wants to Be the New Wine in a Box
By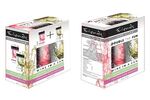 For those of us who have always wanted to shotgun a glass of merlot (don't judge), there are now vintages packaged in 250-milliliter aluminum cans that will do the trick. Friends Wine In A Can, the brand sold by Miami-based Friends Beverage Group, this week announced a partnership with Spirit Airlines, which will offer two varieties of its canned French vino—white moscato and strawberry moscato, priced at $7—to travelers flying on the discount carrier. Feel free not to pour it into a glass.
The idea inevitably makes some indignant—Wine was made to be served from a bottle!—but before anyone starts raving about the indispensability of glass, consider this: A large portion of wine-drinking consumers have demonstrated their indifference toward cork-based traditions. That's why a bag-inside-a-box wine like Franzia has become the world's best-selling brand, with 0.9 percent of the global market and 6.5 percent in North America, according to data compiled by Bloomberg. More and more restaurants are even serving wine from kegs.
All this open-mindedness about wine vessels has helped Friends sell about $1 million worth of canned vino since the product debuted about a year ago. Chief Executive Officer Joe Peleg, who's from Israel, says the cans are available at select 7-Eleven and Kroger stores in the U.S. Southeast, and he expects sales to reach $12 million to $14 million by yearend.
Beer brands, meanwhile, have also embraced efforts to sell different libations inside the aluminum can. Burger chain Red Robin this week announced the release of what the restaurant calls Can-Crafted Cocktails, which combine Coors Light and Blue Moon beers with liquor and mixers. Two varieties of the canned cocktails will be sold at Red Robin, along with limited-edition reusable beer cans made of a sturdier aluminum.
For Peleg, making wine more like beer is the whole point. He says he's not competing for wine drinkers but for those who like beer, breezers, and other light cocktails. In addition to the sweeter 6 percent-alcohol moscato and sangria, Friends also offers cans of 12 percent-alcohol French wines. Each can costs $2.50 at the grocery store. "We grew up in a tradition where you drink wine on a daily basis," Peleg says. "I am trying to make it a daily-basis product [in the U.S.] at a price that is reasonable and packaging that's reasonable. We're trying to make it a friendly thing."
Before it's here, it's on the Bloomberg Terminal.
LEARN MORE