business
Why Google Is Missing Out on the Mobile-Payments Boom
By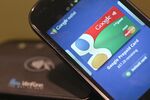 At the annual Mobile World Congress trade show in 2011, Google Chairman Eric Schmidt called near field communications (NFC) a "mega-scale opportunity," predicting the mobile technology would "revolutionize" e-commerce and mobile payments by turning smartphones into a virtual credit card. Fast-forward to today, and mobile payments are indeed taking off. The business is poised to become a half-trillion-dollar market segment in the next 18 months—but no thanks to NFC and Google Wallet, the search giant's digital wallet app that works with select NFC-enabled Samsung Electronics, HTC, and LG Electronics smartphones and tablets.
The value of mobile-payment transactions globally will top $235 billion this year, a 44 percent year-on-year increase, according to Gartner. Similarly impressive gains are forecast over the next three and a half years. "We expect global mobile transaction volume and value to average 35 percent annual growth between 2012 and 2017, and we are forecasting a market worth $721 billion with more than 450 million users by 2017," says Sandy Shen, research director at Gartner.
But NFC will be an inconsequential part of that growth story, Shen says, accounting for just 2 percent of mobile transactions this year and 5 percent in 2017. Shen also singled out Google Wallet and ISIS, the mobile wallet co-founded by AT&T Mobility, T-Mobile US, and Verizon Wireless, as two payment systems that are failing to catch on with consumers.
NFC's poor take-up represents one of the bigger whiffs by the mobile industry in recent years. Many device makers, including Sony Mobile, LG, and HTC, were banking on NFC-enabled phones as a promising new handset category that could supplant credit cards, paper tickets, and possibly cash. Network operators and Google, meanwhile, are keen to see mobile wallets grab a piece of the multitrillion-dollar payment processing market. Retailers, too, are keen on the technology, hoping to integrate the geotargeting capability of NFC into stores to alert customers to, say, new clothing lines or the latest sale offers. In February, the halls of the Mobile World Congress trade show were filled with demonstrations of how consumers could use NFC handsets as a work security badge, a paperless ticket to a concert, or a loyalty card at favorite shops.
Given the poor reception, though, NFC just as well could stand for "not for customers." So far, consumers prefer to reach for the wallet in their back pocket instead of their smartphones. Gartner found that people are not purchasing as much with their mobile phones because "the buying experience has yet to be optimized." People are spending less via mobile devices than via online e-commerce services, the research firm added.
If retail isn't catching on, what is driving growth in mobile payments? Money transfers, which are hugely popular with the booming "mobile money" market in emerging markets, represents 71 percent of mobile payments currently, Gartner found. Paying off bills is the second-biggest activity, while buying merchandise is a distant third. Don't ditch your credit cards just yet.
Before it's here, it's on the Bloomberg Terminal.
LEARN MORE