Two Reasons for Pepsi to Think Twice About SodaStream
by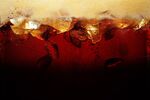 PepsiCo this morning squashed reports that it is in talks to buy SodaStream International, the maker of do-it-yourself soda machines and syrups. But maybe Pepsi should think twice about SodaStream and its fast-growing network of countertop appliances that turn tap water into fizzy drinks.
Now that Coca-Cola and Pepsi have long established themselves as bottlers of water and energy drinks, SodaStream is arguably the most disruptive force in their industry. And that's entirely intentional, as the company made clear in a Super Bowl ad earlier this year positioning SodaStream as the alternative to the big soft-drink brands. The upstart has also repeatedly highlighted the environmental advantages of its reusable containers and cartridges, compared with the packaged products sold by the likes of Pepsi and Coca-Cola.
Even if SodaStream hasn't siphoned off much of the soft-drink market, business is flowing for the Israel-based company. SodaStream has averaged a 33 percent annual revenue gain in the past five years and posted a profit in each of those periods. At a meeting with investors last month, the company said 6.5 million households around the world actively use its machines and set a target for $1 billion in revenue in 2016.
Meanwhile, amid this morning's misleading news, Barclays came out with a report suggesting it "makes strategic sense" for Pepsi to shop for SodaStream. The Israeli company has well-protected barriers to entry, the analysts note, and is "clearly not a passing fad." A SodaStream buy wouldn't be a stretch for Pepsi, which has very little debt and $6.7 billion in cash on hand. (Coca-Cola, too, could easily swing the deal, with its $9.2 billion in cash.) There are two business dynamics in particular that should make such a buy appetizing:
Distribution: One of SodaStream's biggest challenges has been actually getting its product on shelves. It's now in 15,000 U.S. stores, including Wal-Mart, but that took years of work and a lot of marketing dollars. As parent company, Pepsi could unlock a lot of value by simply leveraging its much more vast and established distribution network. Just think of all those Pepsi delivery trucks moving CO2 refills around the country.
Disruption: Consider how Starbucks handled the K-Cup, single-serve coffee phenomenon. It stumbled a bit at first but quickly got a cut of the growing business by licensing its beans and its brand to Green Mountain Coffee Roasters' Keurig, the market leader. In the meantime, it introduced a line of instant coffee—Via—and developed the Verismo, a K-Cup-capable machine of its own. If Pepsi bought SodaStream, and DIY soda became a major part of the market, Pepsi would have the No. 1 player in the game—and even if homemade pop continues to slowly sip at the beverage market, Pepsi would turn a profit on the business.
Meanwhile, SodaStream has become more valuable by the day. With shares trading for about $73 this morning, the company's market cap is hovering around $1.5 billion. And Barclays expects the stock to hit $100 by yearend.
Before it's here, it's on the Bloomberg Terminal.
LEARN MORE