Twitter's Latest Ad Deal May Be a Big One
By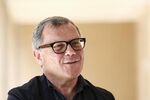 Today Twitter announced a new partnership with WPP, the world's largest advertising company. WPP is looking to improve its data management and thus its campaigns; Twitter is looking for new revenue sources as it moves toward a possible initial public offering. The companies say the deal will integrate Twitter data into a number of WPP's units, including GroupM, Kantar, and digital agencies such as Wunderman.
The news comes on the heels of Twitter's recent announcement that it had formed a similar partnership with Starcom MediaVest, a division of WPP's rival, Publicis Groupe. In April, Publicis Chief Executive Maurice Levy said in an interview with Bloomberg Television that the collaboration could involve spending "between four to six hundred million dollars over a period of three, four years."
Today's WPP announcement made no mention of financials.
As Advertising Age points out, not long ago WPP CEO Martin Sorrell, in an interview with the Harvard Business Review, described Twitter as a "PR medium" that while "very potent," also "reduces communication to superficialities and lacks depth."
In today's announcement, Sorrell was a tad more generous. "Twitter's relevance continues to grow—not only as a social platform, but also as a window into consumer attitudes and behaviour in real time," he said. "We look forward to leveraging the platform in a variety of ways for our clients around the world."
"As Twitter has grown, marketers are leveraging the platform for brand insights, relevant real-time messaging, and customer research," Twitter CEO Dick Costolo said. "This partnership will benefit clients by pairing Twitter with WPP's world-class analytics, targeting, and creative capabilities."
Translation?
"In English: Twitter will try to make it very easy for WPP to spend a bunch of money on the service," writes Peter Kafka, "and WPP has likely committed to spending a bunch of money on the service."
Before it's here, it's on the Bloomberg Terminal.
LEARN MORE