Tourists to Turkey Get More Than They Bargained For
Sarah A. Topol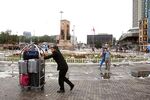 When Holger (he declines to give his last name out of concern for his privacy) and his four co-workers landed in Istanbul for a quick vacation from Germany last week, they had no idea the view from their hotel in Taksim Square would include a front-row seat to the biggest protests against the government of Prime Minister Recep Tayyip Erdoğan in a decade. And they definitely didn't pack for tear gas.
"We weren't afraid," he says, strolling down Istiklal, Istanbul's central shopping street and the site of heavy clashes on May 31 between protesters and security services, as shopkeepers scrubbed anti-government graffiti from storefronts. "Our kids in Germany were nervous. They were watching the TV and calling us."
Holger, 44, and his friends say they had a great time on their vacation and would recommend Turkey to anyone. "We did get gas in our eyes, though," he recalls. "And at this moment for visiting Turkey, it's not very good to stay here. But for Turkey, I know what's happening is very important. A protester told me he was doing this for his kids—and I respect that."
Throughout the turmoil of the Arab Spring and the economic collapse of Southern Europe, Turkey has been seen as a bulwark of strength and stability—and its tourism industry has benefited from the holidaymakers its neighbors lost. But as Istanbul's protest movement enters its sixth day, the industry is already suffering. Observers say the government must move quickly to deal with the unrest before footage of tear gas and rioting youth damages Turkey's image as a sundrenched vacation destination.
"The tourism sector is a particularly volatile sector to any perceptions of risk, so if you do see protests in Turkey, it's very easy for tourists to find another destination. When you had the Arab Spring, lots of tourists who would have gone to Egypt went to Turkey, which seemed to be safer and offer roughly the same product," says William Jackson, emerging markets analyst at Capital Economics in London. "The protests have grabbed the world headlines, and the government probably has quite a lot of work to do to get the message back that Turkey is a safe place to visit."
Even before the protests, Turkey's Achilles heel has been its widening current account deficit. As a result, the government has been on a mission to boost tourism—and the dollars and euros its brings in—to offset the gap, marketing heavily at international trade fairs, bidding on the 2020 Olympics, and grooming the country's medical tourism sector.
Turkey is one of the top 10 tourist destinations in the world, attracting more than 31.78 million visitors in 2012, up 1.04 percent from the previous year, according to the Ministry of Culture and Tourism. In April, the number of foreigners in Turkey jumped 13.02 percent year on year, the last month that data were available. The year of the Arab Spring, Turkey's tourism numbers jumped almost 10 percent.
Kaya Demirer, president of Turyid, a Turkish restaurant and entertainment association, says the industry had high hopes for 2013—it should have been the year to evaluate the sector's strength after two years of solid growth. Instead, Demirer says that over the past week, hotels have seen a 30 percent cancellation rate and restaurants are empty. Bloomberg News reports that retail sales in Istanbul's Beyoglu area, which includes Taksim Square, have dropped as much as 80 percent in the past week. "Will this have a long-term effect? If it continues to be a chaotic situation in Istanbul there's no way it won't," Demirer says, "When you lose one year, it takes three or four years to recover."
Here the government's response is critical: The protests have shut down parts of Istanbul popular with tourists, like Istiklal and Taksim Square, which houses many tourist hotels, including the InterContinental. Makeshift barricades at the entrance to Taksim have cut off traffic to the usually busy square. Deputy Prime Minister Bulent Arinc recently estimated physical damage from the protests surpassed $37 million.
"A lot will now depend on what happens to the current protests: If they do keep on going, tourists may stay away. On the other hand, if they fade away quickly, maybe confidence in Turkey won't have suffered too much," says Jackson of Capital Economics.
Although Turkey has had its own domestic disturbances, including a nearly three-decade war with the Kurdish rebels, this is the first real upheaval to strike so close to tourist sites. Just a perception of instability, Demirer says, "will affect international tourism heavily, no matter if they are arriving to Istanbul or Antalya." In Egypt, a spate of deadly bombings caused intermittent disruption to their tourist industry, while the sustained unrest over the past two years has completely crippled the sector.
Perceptually the damage may have already been done. Although those tourists already in Turkey say they have not had any problems, their relatives and friends probably won't be coming soon. Lorna Lindsay and Hannibal Hayens, visiting from England, say they've lived through worse—the London bombing and the IRA—yet their family and friends marveled they weren't canceling their trip to Turkey. They arrived in Istanbul on the second day of the protests.
"People forget distances," Lindsay says. "We're staying far away, beyond the Blue Mosque. This kicks off at night—just don't put yourself in it," she remarked as the pair took their first stroll to check out Taksim Square on their final day in Turkey. Thinking about the possibility of tourists getting tear gassed, Hayens laughed and said: "It's a story to take home, isn't it?"
Before it's here, it's on the Bloomberg Terminal.
LEARN MORE