business
Overcaffeination Concerns Haven't Dented Energy Drinks
By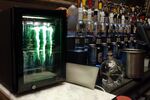 The Food and Drug Administration still isn't sure whether energy drinks and supplements are bad for us, but that uncertainty doesn't seem to be worrying consumers (who are, in any case, very adept at tuning out health advice from the government). Despite unflattering publicity and price competition, U.S. energy drink sales increased 6.7 percent to $9.7 billion in the year ended May 19, according to Symphony IRI data compiled by Bloomberg.
Take Monster Beverage, for instance: Gross sales jumped 9 percent year-over-year in April and May, and sales look "increasingly favorable in June," Stifel analysts noted. There was cause for concern after caffeinated beverages came under scrutiny by regulators—the company reported a mere 6.5 percent increase in sales during the first quarter after eight consecutive quarters of double-digit year-on-year revenue growth—but business clearly picked up again this spring. Monster Beverage's revenue is expected to grow 10 percent this year, according to data compiled by Bloomberg. That's slower than the 21 percent jump in 2012 and 30.6 percent in 2011, but still impressive. The company did not respond to a request for comment.
"This is clearly not a fad. There is a general need for energy," says BMO Capital Markets analyst Amit Sharma about the energy-drink market. It wasn't for nothing that beverage producers added caffeine to cola long ago, and even that practice came under investigation in the early 1900s. Consumers' affection for peppy drinks also explains why U.S. coffee sales continue to grow—up 8.1 percent in the last 52-week period—and manufacturers now are caffeinating everything from beef jerky to ice cream.
Per capita consumption of energy drinks grew to 22 eight-ounce servings in 2012—still less than sports drinks—so there's plenty of room for growth, says Sharma. This is especially so if companies can eventually branch out beyond their main consumer group of young males.
Even as his company is being sued by San Francisco over the marketing, Monster Chairman Rodney Sacks reassured investors during a recent earnings call that the drinks are safe and contain less caffeine (160 mg per 16 oz.) than a Starbucks coffee (330 mg per 16 oz.). Should the FDA decide to impose any limits on caffeine content or labeling requirements, Sharma says those regulations would only benefit the energy-drink market by "removing uncertainty around the ingredients." Consumers, presumably, are too drowsy to read the nutrition information anyhow.
Before it's here, it's on the Bloomberg Terminal.
LEARN MORE