Could Bordeaux's Chinese Winemakers Become Casualties of Trade War?
By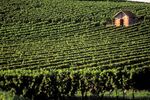 China, responding to a European Union decision to impose steep tariffs on Chinese-made solar panels, threatened on June 5 to slap retaliatory tariffs on EU wine imports.
The Chinese might want to think twice before doing that. In France's Bordeaux region, a growing number of winemakers are Chinese. Taking advantage of depressed land prices, they've snapped up dozens of estates over the past few years and are shipping the output back to China to meet growing demand from their countrymen.
At least 40 Bordeaux estates are now in Chinese hands, with 34 of those sold within the past two years, according to a blog maintained by Maxwell-Storrie-Baynes, a real estate agency specializing in such properties. "All this week, I've been out with Chinese buyers," says partner Michael Baynes, who has hired a Chinese staff member to help with the new clientele.
The Chinese have become big Bordeaux drinkers. China is now Bordeaux's biggest export market by volume, with 10 percent of the region's wine production shipped there last year, according to the Conseil Interprofessionel du Vin de Bordeaux (CIVB), a local producers' group.
And many Bordeaux estates are selling for a song. Except for the most prestigious appellations such as Saint-Emilion grand cru classé, prices for vineyard acreage have fallen one-third to one-half since the 1990s, Baynes says. "The Chinese are very shrewd businessmen and women. They are coming here, buying land relatively inexpensively with a very strong brand, and then they're shipping it back to China and selling it for €30 to €50 ($40 to $65) per bottle. They can clear the cost of the chateau within one or two years."
A "very respectable" Bordeaux estate can be had for about €40,000 per hectare (2.47 acres), Baynes says. Such transactions, he says, are often on a "turnkey" basis, including not only the vineyards but also the necessary winemaking equipment, as well as a manager who's prepared to stay and supervise operations.
Some buyers, though, are opting for pricier properties, such as Bellefont-Belcier, a Saint-Emilion grand cru estate that sold last year for a reported €30 million, or more than €1.5 million per hectare, to an unidentified Chinese industrialist.
So far, Chinese-owned vineyards account for less than 1 percent of Bordeaux wine acreage. But sales continue at a rapid clip, with at least 13 transactions either completed or in progress.
According to the CIVB, the Hong Kong-based Goldin Financial group recently bought three prestigious properties: Chateau Le Bon Pasteur in the Pomerol appellation, Chateau Rolland-Maillet in Saint-Emilion, and Chateau Bertineau Saint-Vincent in Lalande-de-Pomerol.
Until recently, Baynes says, most Chinese buyers were executives of companies affiliated with government agencies. "They're very corporate, with lots of due diligence," he says. Now, though, more buyers are coming from Hong Kong. "They're looking for something they can have some fun with, somewhere they can bring their friends for holidays."
What's more, the Chinese seem undaunted by the prospect of maintaining a somewhat decrepit 15th-century chateau, which often comes with a Bordeaux vineyard purchase. An ambience of shabby chic, Baynes says, "is exactly what they want."
Before it's here, it's on the Bloomberg Terminal.
LEARN MORE